Gabby Barker (Shoshone/Paiute) & No. 19 Lady Raiders Open Season at Jim West Challenge this week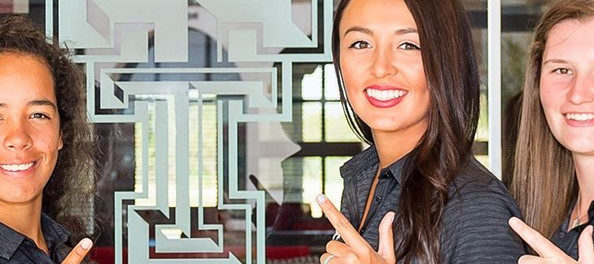 LUBBOCK, Texas – The 19th-ranked Texas Tech women's golf team will open its 2017-18 season Monday morning when the Lady Raiders tee off the first of three rounds at the Jim West Challenge held at The Club at Carlton Woods in The Woodlands, Texas, just outside of Houston.
Tech will play a total of 36 holes Monday as part of the 54-hole tournament that will conclude Tuesday morning. The Lady Raiders are one of 14 teams in the competitive field that also includes the likes of Duke, Kent State, Texas A&M, Oklahoma and TCU.
"We're excited to start our season against a good field," said Tech head coach JoJo Robertson, who has led the Lady Raiders to an NCAA Regional appearance in seven of her eight seasons. "We've played well here in recent years, so hopefully we can shoot several low scores and start our season on the right note."
This is the fourth-consecutive year the Red Raiders have entered the Jim West Challenge as Tech finished seventh in 2016, fourth in 2015 and a program-best third in 2014. Tech seniors Lauren Mason and Gabby Barker (Shoshone/Paiute) have both been in the lineup in each of the Lady Raiders' last two trips to the tournament.
Barker, in fact, shared medalist honors at the event in 2015 after signing a 5-under 211 card that featured a 3-under 69 opening round that was followed by a 68 later that afternoon. It was the first of her now three career individual titles as a Lady Raider, which is the most in program history.
Mason, meanwhile, was Tech's highest performer a year ago in 11th overall following a 3-under 213 card that matched the lowest of her career. She topped Barker and then-freshman Sofia Garcia by three strokes as the duo finished in a tie for 23rd. Garcia was making her collegiate debut that weekend.
Garcia will have some experience to provide to freshman Louisa Brunt, who similarly will be making her collegiate debut this week, playing as an individual. The Tech lineup will consist of Barker, Garcia and Mason along with fellow returnees in juniors Mami Yamamoto and Emma Ballard.
Tech is coming off an impressive 2016-17 season where the Lady Raiders advanced to the NCAA Championships for the third time in program history and second time in the last three years. Robertson and assistant coach Matt Whall return four players in Barker, Garcia, Mason and Yamamoto who were part of Tech's postseason lineup.
The Lady Raiders are slated for an 8:30 a.m. shotgun start on both Monday and Tuesday. Live scoring will be available throughout the tournament at Golfstat.com and @TexasTechWGolfon Twitter.
TOURNAMENT INFORMATION
Dates: Sept. 11-12, 2017
Format: Stroke play, 54 holes; 36 holes on Monday, 18 holes on Tuesday
Tee Times: 8:30 a.m. (CT) shotgun start (Mon.-Tues.)
Site: The Fazio Course at The Club at Carlton Woods (The Woodlands, Texas)
Host School: Texas State
Course par and yardage: Par 72, 6,137 yards
Tournament Field (Final 2016 Golfstat Ranking): Duke (10), Kent State (14), Texas A&M (24), Oklahoma (25), Texas Tech (35), TCU (40), Augusta (42), Missouri (55), Notre Dame (66), UTSA (71), Southern Miss (76), Texas State (85), Tulsa (101), UNCG (180).