Southern Oregon's Daranda Hinkey (Paiute/Shoshone) Scores 15 as Raiders shoot past Linfield College for 5th straight win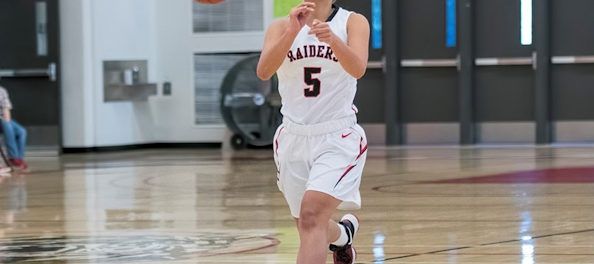 McMINNVILLE – In the teams' first matchup since 1997, 15th-ranked Southern Oregon wore out Linfield College to the tune of a 79-53 win behind career-highs of 21 points apiece from Casey Williams and Remi Mejia on Wednesday night at Ted Wilson Gym.
Williams, a senior wing who'd gone 5-of-25 from the floor through SOU's first four games, got on track with a 10-of-16 performance. Mejia, a senior guard, went 9-of-13 from the field and picked up five steals, while Daranda Hinkey (Fort McDermitt Paiute Shoshone) made all three of her 3-point attempts on the way to 15 points.
The Raiders are 5-0 for the third time in the last four seasons. They collectively enjoyed their best shooting night of the season at 47 percent (32-of-69) from the field, and they went 4-of-7 from downtown in the fourth quarter to extend what had been a 55-40 lead at the start of the period.
Frustrated by SOU's defense, the Wildcats (2-2) committed 25 turnovers and shot 37 percent (18-of-49). Every Raider opponent this season has accumulated at least 24 turnovers.
Syd'Nee Fryer chipped in seven rebounds, three assists and three steals off the bench for the Raiders. Also among the reserves, Kenadee Honaker added six boards and Bryanna Raff went 3-of-5 with six points.
Williams scored 13 of her points in the second half and Mejia closed the Wildcats out with seven in the fourth.
Audrey McMillan's 13 points led Linfield.
The Raiders will travel next to The Master's Classic in Santa Clarita, Calif., for their final tune-ups before Cascade Conference action begins. They play at 2 p.m. Friday against Hope International (Calif.) and noon Saturday against the host Mustangs.