Shoni Schimmel finishes West Coast Road Games with Hot Hand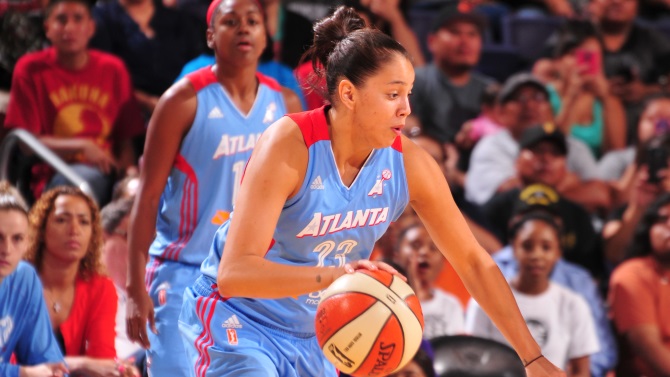 By Brent Cahwee, NDNSPORTS.COM
(Atlanta) – The most anticipated part of the season for Shoni Schimmel fans last week was the west coast swing of games held at Phoenix, Seattle, and Los Angeles. A large contingent of fans were on hand in getting a glimpse of Shoni's "Sho-time" style of play that is most commonly referred to on reservations and Native communities across America as "rez ball".
Coming into the stretch of road games that extended into Chicago this weekend, Shoni not only gave the fans what they wanted off the court with the meet and greets, Q & A's, and countless "Selfie's", Shoni finally got hot on the court despite the Dream dropping all those road game with losses. In those stretch of games Shoni averaged 13. 5 points and 4.3 assist off the bench, which is significantly higher than her season average of 7.6 points and 3.5 assist per game.
At Phoenix, Shoni had 13 points/5 assists along with 2 steals against the western conference leading Mercury. It was the first time since her Minnesota game, 2 ½ weeks before, that she logged more than 27 minutes of play, interestingly she scored 17 versus the Lynx in that game.
Traveling to the homecoming game back to the Northwest Area, thousands of fans showed up more in support of the Dream than they hometown Seattle Storm. Shoni logged the second most minutes of her rookie career at 37 and dropped 14 points and 6 assist for the Dream.
The last leg of the west coast trip was to Los Angeles where she had 12 points and 4 assists. All of her points came from behind the arc, which is one of the reasons she was drafted by Atlanta. To help provide that outside threat for the Dream that has been missing from the squad the past few years. In closing the four game road trip in Chicago Shoni again scored all of her points from behind the arc by dropping five 3-pointers along with a couple of assists.
Despite the Dream losing these road games, they had previously secured a spot in the WNBA Playoff's Eastern Conference in a win over Tulsa. With head coach Michael Cooper fully recovered from his surgery and back on the sidelines the past two games, the Dream will look to get back on the winning streak and hopefully they can capitalize on Shoni's hot 3-ball shooting heading into the playoffs as they finish out the last two regular season games on their home court in Atlanta.