Riley Holsinger (Nez Perce) scores a game high 18 points as Lions Ride Defensive Scheme to GSAC Win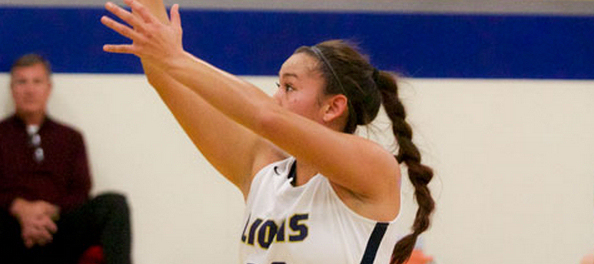 Fullerton, Calif. – The # 10 rated Vanguard Lions (11-4, 4-2) win convincingly over Hope International, 71-31, to wrap up a three game road trip. Riley Holsinger (JR/Spokane, WA) scores a game high 18 points to go along with her eight rebounds.
Amber Alexander (JR/Grand Blanc, MI) contributed 15 points, five rebounds and three steals in the victory. Samantha Doucette (JR/Irvine, CA) adds 14 points, six boards and three assists. Jamie Goff snatched 11 rebounds including six on the offensive glass in only 17 minutes of play.
Vanguard shot nearly 50% for the game (27-55) from the field, but managed to connect on only 2 of 7 attempts from three point land.
The Royals were led by Brittany Bauman scoring 11 points on 3-8 shooting from behind the arc. Bauman scored four of the teams nine field goals made.
VU topped almost every statistical category as the Royals were stumped by the Lions defensive scheme. Vanguard recorded more defensive rebounds (29) than Hope International grabbed in total (28).
The Pride stole the ball 13 times which led to 10 points, including four second chance points. The Blue and Gold is averaging over eight thefts a game.
Holsinger scored 13 of her points in the first half on 5-10 shooting. The Lions held a 38-14 advantage at halftime. Hope International only had made three field goals at the intermission.
The Lions scored 71 points in the contest, which is right on par with their season average of 70.4 point per game. Holding HIU to 31 points was 17.1 below the season average for opponent's points per contest. VU has outscored its opponents by close to 400 points to date.
Vanguard returns home to The Pit to take on the Biola Eagles (12-7, 4-1) on Saturday, January 17th tipping off at 5:30 p.m.