Johny Hendricks (Otoe Tribe) slated for return at UFC 185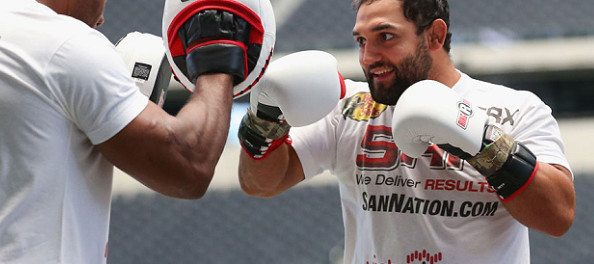 By Shaun Al-Shatti,  @shaunalshatti, 
Slow down on talks of a Johny Hendricks  vs. Robbie Lawler trilogy. The UFC announced on Tuesday that rather than getting a chance to reclaim his lost title, Hendricks will instead be slotted against welterweight contender Matt Brown on March 14 at UFC 185 in Dallas, TX.
Hendricks (Otoe-Missouria Tribe/16-3) was initially thought to be next for Lawler after the two fought to a close and contentious split decision in their Dec. 2014 meeting.
But plans changed, and according to Hendricks' manager Ted Ehrhardt, the former UFC welterweight champion accepted the fight against Brown "just to keep busy."
"We didn't want to wait around," Ehrhardt told MMAFighting.com's Ariel Helwani. "Lawler didn't want to fight until the summer, but we wanted to keep fighting.
"Title shot or not, no one wants to sit around another six or seven more months."
When asked whether he was told that a victory over Brown guaranteed Hendricks his expected title shot, Ehrhardt said, "We had a title shot without fighting [Brown], so why wouldn't we?"
American Top Team co-founder Dan Lambert echoed Ehrhardt's sentiment regarding Lawler's delayed timetable for a return.
"Robbie was looking for a little break after fighting four fights and 21 rounds in 13 months," Lambert told Helwani. "He was hoping for no sooner than May."
As for Brown (19-12), "The Immortal" was initially scheduled to fight in the main event of UFC Fight Night 60. However after his original opponent Tarec Saffiedine withdrew due to injury, a suitable replacement was unable to be found and that fight was scrapped.
UFC Fight Night 60's co-main event, a welterweight contest between blue-chip prospects Brandon Thatch (11-1) and Stephen Thompson (10-1), has instead been upgraded into a five-round main event bout, while Brown will return to action four weeks later than expected.
Brown most recently lost a decision to Lawler in a gritty back-and-forth battle at UFC on FOX 12. The setback snapped a remarkable seven-fight win streak that catapulted Brown's name from the scrap heap to the brink of contendership in the UFC's 170-pound division.
Both he (No. 6) and Hendricks (No. 1) are ranked highly on the UFC's current media-generated welterweight rankings.
"No major reaction," Brown said when asked for his thoughts on the bout after being in limbo. "Just happy to have a deserving fight."
Like Hendricks, Brown added that he, too, believed a win would land him a title shot.
UFC 185 takes place at Dallas' American Airlines Center and airs live on pay-per-view. UFC Fight Night 60 takes place February 14, 2015 at the 1stBank Center in Broomfield, Colorado and airs live on FOX Sports 1.
(Story originally appears at: http://www.mmafighting.com/2015/1/13/7540995/matt-brown-vs-johny-hendricks-slated-for-ufc-185-brandon-thatch-vs)