Rich Winter: Todd Country Wins Over Pine Ridge for Signature Road Win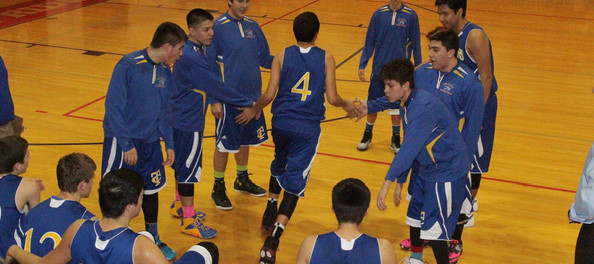 By Rich Winter
All season long, fans of the Todd County boys basketball team have been waiting for a signature moment, a big win, something to show this team is better than the 7-11 record the team had going into Thursday's road game in Pine Ridge.
Signature win accomplished as Joe Clairmont and Austin Hammer combined for 40 points as the Todd County boys ripped Pine Ridge, 79-63 to improve to 8-11.
The Falcons got off to a terrific start, earning 6-0 lead on four points from Joe Clairmont and a bucket from Austin Hammer.
All five Todd County starters scored in the first period, finished off by a Dru Espinoza trey that helped Todd County lead 22-16 after one.
But Pine Ridge got hot in the second period and the Thorpes took the lead, 26-25 on a Terry Thomas floater.
A Joe Clairmont trey gave the lead right back to Todd County but seconds later Walter Cournoyer's 15-footer tied it at 28.
Pine Ridge led 33-31 at intermission.
The Thorpes started quickly in the third period, earning a 45-40 lead.
And then Dru Espinoza took over.
The junior guard dropped a deep trey and followed that up with a converted, old fashioned, 3-point play that gave Todd County a 41-40 lead.
Trailing 46-43 late in the third period, the Falcons closed the period on a 9-0 run that broke the game wide open.
Austin Hammer drained a three to tie the game, Gunner Piper nailed a 15-footer and John Hacker and Joe Clairmont made layups as part of the 9-0 run that earned Todd County a 54-46 lead.
Hacker, who scored 26 points in the JV game, opened the final period with a steal and finish. The sophomore guard had a break-out game finishing with nine points in the varsity game.
The fourth quarter was an orchestra of offense as Todd County ran the offense and got layup after layup, out-scoring Pine Ridge, 25-17 in the final stanza.
All told, Todd County finished the game on a 34-17 run.
TCHS 22 9 23 25 – 79
PRHS 16 17 13 17 – 63
Scoring summary: Gunner Piper 9, Austin Hammer JR., 19, John Hacker 9, Joe Clairmont 21, Matt Dunham 6, Dru Espinoza 13
Rebounds: Hammer 10, Clairmont 8, Dunham 7
Assists: John Hacker 2, Dru Espinoza 2
Blocked shots: Clairmont
Joe Clairmont and Pine Ridge's Walt Cournoyer collide at the rim. Clairmont scored 21 points to lead the Todd Count effort.