Caitlyn Ramirez (Seminole) hits Game Tying Goal for Trojans Who Win in Overtime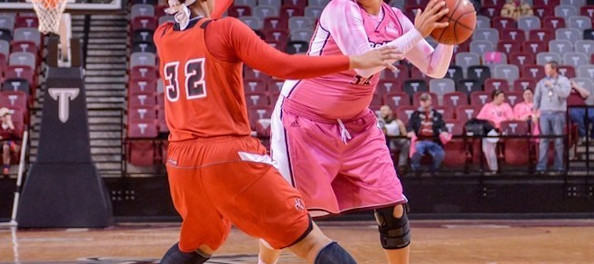 STATESBORO, Georgia – Ashley Beverly-Kelley dropped 46 points and Troy needed all of them to survive a scare in a 99-93 overtime win over Georgia Southern at Hanner Fieldhouse on Thursday night.
Troy (16-9, 11-5) has now won four straight games and sits alone in third place in the Sun Belt standings.  Beverly-Kelley's career-high 46 points are the most scored by a player in the nation this season and the most ever scored against Georgia Southern.
However, Caitlyn Ramirez (Seminole Nation of Oklahoma) was the hero at the end of the regulation.  Troy was down 82-80 with 9.2 seconds to go in the game, and after a missed layup, Ramirez was there for the offensive rebound and putback bucket, tying the game 82-82 and sending Troy to its first overtime game of the season.
Ronita Garrett hit three of Troy's four field goals in overtime and finished with 25 points and 17 rebounds for her 17th double-double of the season.  After Georgia Southern (4-20, 1-14) opened overtime with a 3-pointer, Garrett scored the next four points to give Troy a lead it would never give up.
Beverly-Kelley was a perfect 8-of-8 from the line in the final 36 seconds to seal the win for Troy.  The junior finished 16-of-31 from the field, including 5-of-8 from long range as she made all but one of Troy's six 3-pointers (6-of-19).
The Eagles made 13-of-34 from deep, including three in overtime.  Abby Hix, who averaged 3.6 points per game coming in, hit her third 3-pointer of the night with 9.2 seconds remaining to give Georgia Southern the 82-80 lead just ahead of Ramirez's bucket.
Ramirez finished with nine points and a season-high 11 rebounds.  Her second-chance bucket was part of 31 second-chance points for the Trojans who grabbed 28 offensive boards and outrebounded Georgia Southern, 60-49.  Ten of Garrett's 17 rebounds were offensive.
Troy forced the Eagles into 20 turnovers, including 14 in the second half as the Trojans erased a five-point, 47-42, halftime deficit.  Troy opened the half on an 11-2 run to regain control, 53-49.  From there, neither team ever led by more than six points until Troy took a seven-point lead in overtime.
Georgia Southern had five players score in double figures, including a team-high 23 from Angel McGowan.  Alexis Sams had 18 and Anna Claire Knight had 17 as the Eagles' three starting guards finished with 58 combined points.
The Eagles shot 46 percent (37-of-80) on the night, including a 57 percent mark (20-of-35) in the first half.  Troy attempted nearly 20 more shots (38-of-99) to offset a 38 percent shooting performance.
The win gives Troy a season sweep of Georgia Southern and also officially clinches a spot in the Sun Belt Championships for Troy.  It also assures Troy its first winning season since 2008-09, which is also the last time Troy won 16 games.
The Trojans now return home to host Sun Belt leader UALR on Saturday at Trojan Arena at 2 p.m.  The contest will be a Play 4Kay game as the Trojans will wear their pink uniforms and look to raise awareness of breast cancer.