Rich Winter: Good luck to St. Francis Indian School cross country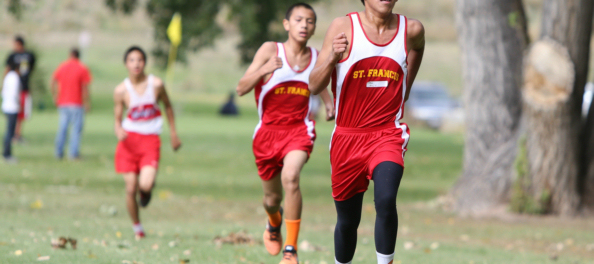 By Rich Winter
As the St. Francis Indian School cross country team heads to the Region 4 meet in Chamberlain, the Sports Instigator would like to wish them well. Have to offer a bit of an apology as I haven't been able to find a lot of the individual and team results online, so it's hard to gather that information, but I am watching and wishing you good luck.
Chase Boltz will be looking to make a trip to the state cross country meet. You can do it big fella!
Chase Boltz of St. Francis nearly made the state cross-country meet a year ago and he'll need to finish in the top-20 at the Region meet in Chamberlain on Thursday to get his trip to the state meet in Huron.
Emma Larvie charges down the stretch against a runner from DuPree. Larvie will be looking for a 3rd straight trip to the state cross country meet.
Of course I'm always interested in what Emma Larvie from St. Francis Indian School is doing. Mostly because her dad and I are pretty competitive, well we used to be, in 5k road runs. I'm guessing that her experience at the Region level will pay off and she'll be making that trip to Huron again.
Good luck to the St. Francis cross-country team. Can't wait for those results to post on Thursday so I can see how you all do.