Rich Winter: Chase Boltz and Emma Larvie heading to state cross country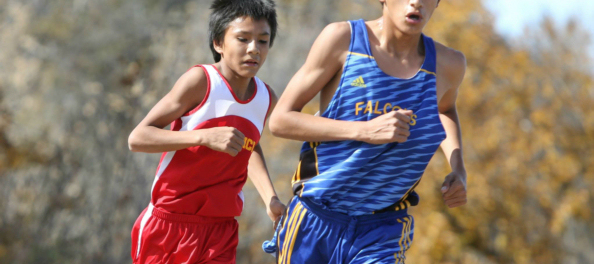 By Rich Winter
St. Francis 9th grader had a lot to think about while training for cross country this season. Having just missed the top-20 in the Region 4A last year, Boltz didn't make the trip to state.
At Thursday's Region 4 meet, Boltz not only cracked the top-20, (10th place), he also showed he's going to be a real handful in the coming years with a gritty 18:03 time.
Race results:
1st – Tobias Weddell – 16:37
10th – Chase Boltz – 18:03
28th – Mason Cordier – 19:51 (Only a 7th grader, should be tough next season)
35th – Howard Cordier – 20:53 (Just an 8th grader)
36th  – Ska Black Bear – 20:55
43rd – Brendan Bad Hand – 22:02
45th – Jacob Wike – 22:35
Team points: Todd County 22 – St. Francis Indian 128 6th place
Emma Larvie makes it to state for 3rd consecutive year: 
In order to make it to the state cross country meet, an athlete must be on a top team or finish in the top-20 as an individual to make it to the state meet. Despite covering 2.49 miles, it seemed the girls at Thursday's Region 4A race knew exactly where they were and what they were fighting for as places 17-22 were separated by just 13 seconds.
St. Francis Indian School athlete, Emma Larvie, was right in the middle of that bunch and finished 19th with a time of 17:27
Top finishers:
1st – Kelise Herman – TCHS – 15:26
19th – Emma Larvie – SFIS – 17:27 (Joe getting all red faced)
30th – Katelyn Whirlwind Soldier – 18:36
31st – Jessica Dillon – 19:27
33rd – Charlize Arcoren – 19:48
34th – Neola Spotted Tail – 19:58
35th – Jazlea Arcoren – 20:21
Team points: Mt. Vernon Plankinton 23, Todd County 27, Chamberlain 28  – St. Francis Indian School 7th – 113