Perseverance pays off for Daniel Whirlwind Soldier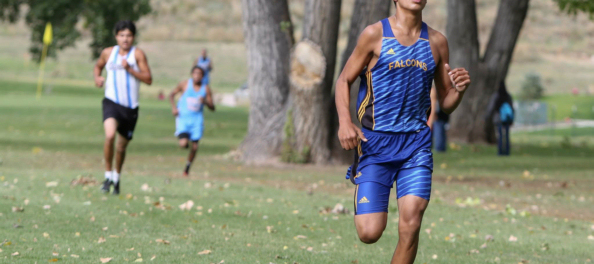 By Rich Winter
Six years ago, Daniel Whirlwind Soldier made his first appearance at the state cross country meet.
As the race started in 2009, Daniel's older brother Marc surged to the front, while Daniel fell to the back of the pack. 400 meters into the race Marc was in first and Daniel was in last. In true, Whirlwind Soldier style, Daniel fought to a 2nd from last finish.
"Daniel had run junior varsity all season but when the team qualified for state, we threw him in there," Tonya Whirlwind Soldier, TCHS coach and Daniel's mom said. "I just remember him being so little and fighting so hard so he wouldn't get last."
For a while it looked like Whirlwind Soldier might not ever make it back to the big dance.
Although out for cross-country as an 8th grader, he didn't qualify for the state meet.
As a 9th grader, he was diagnosed with a heart murmur. That slight defect cost him his freshman and sophomore seasons where it was recommended that he not run. So, instead of running he joined the team as a manger.
Midway through his sophomore season, doctors gave him medical clearance to run again. So, he went out for track and slowly worked his way back into shape.
"That was tough on him, not being able to run," Whirlwind Soldier said. "Daniel's a worker and I think he missed being able to put in the work with his friends and teammates."
As a junior, Whirlwind Soldier showed steady improvement and spent most of the season as the No. 3 or No. 4 runner for Todd County. At the state meet, freshman John Hacker moved up to the No. 4 spot that helped Todd County clinch the state title.
Whirlwind Soldier did not run well at the state meet and finished in 75th place.
As a senior, Whirlwind Soldier has again showed steady improvement. At the meets leading up to Thursday's region championship, Whirlwind Soldier firmly entrenched himself as the No. 2 runner for Todd County.
Facing off against the No. 4 ranked Miller Rustlers, Whirlwind Soldier fought his way past Miller's Mason Breitling, (11th at state meet last year), and finished third. Along the way, he cracked the 18-minute barrier for the first time in his Todd County career, running a 17:23.
"We talked about him getting up with the kid from Miller before the race," Whirlwind Soldier. "During the race we looked at each other and I told him to dig deep and not let Breitling get away."
As the defending state champions, Todd County will be counting on Whirlwind Soldier to get up in the mix.
In addition to being a standout on the cross-country team, Whirlwind Soldier is a member of the National Honor Society and works part-time at Buche Foods in Mission.
On coaching her son and seeing his growth and progress, Whirlwind Soldier is one proud mama.
"Daniel has always been a great teammate," Whirlwind Soldier said. "It's exciting to see all of the hard work pay off."
Whirlwind Soldier and his team will look to defend the 2013 state title at the state meet in Huron on Saturday.