Reliever Takoda Metoxen (Oneida Nation) earns his first career win for Memphis Tigers who Pound Alcorn 18-7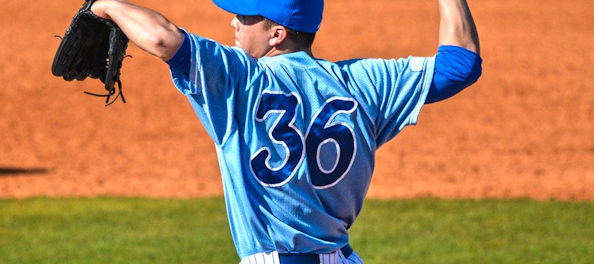 MEMPHIS, Tenn. – Memphis scored runs in five different innings to come out with an 18-7 win over Alcorn State Wednesday at FedExPark. The Tigers picked up their 20th win and now sit at 20-9 heading into a weekend series at UConn.
Alcorn scored three runs in the second and in the fourth to take a 6-4 lead over Memphis but the Tigers scored 14 runs from the fourth inning on to put the Braves away. Memphis starter Tommy Morren was tagged for six runs on seven hits in 3 2/3 innings.
Reliever Takoda Metoxen pitched 1 2/3 innings, allowing just on run on two hits and earned his first career win. Taylor Bobo, Colton Neel, Blake Bennett and Alex Smith pitched the final 3 2/3 innings without allowing a run.
Five Tigers had multiple hits in the game and eight of the nine starters had a hit. Brandon Grudzielanek had two hits and drove in two runs. Tyler Webb, Chris Carrier, Alec Trela and Andy Bowman all finished with two hits.
Memphis started the game with five straight singles to plate the first three runs of the game in the top of the first inning. A sacrifice fly gave the Tigers a 4-0 lead after one inning.
After getting a 6-4 hole in the top of the fourth, the Tigers quickly rebounded to score three in the bottom half and retake the lead. Carlos Williams was hit by a pitch and scored on a double by Sam Nozicka.
Tyler Webb provided the big blow, smacking a two-run homer to left-center field to make the score 7-6.
Memphis scored three more runs in the fifth to take a 10-6 lead. Carlos Williams lined a ball that went all the way to the wall in left field and Williams sprinted around the bases for an inside-the-park home run.
The Tigers plated two more in the sixth and then put the game to bed with a six-run eighth inning.
Memphis will be back on the road for the second-consecutive weekend in American Athletic Conference play. The Tigers travel to UConn (16-10, 3-0 AAC) to play Friday, Saturday and Sunday.