Freshman reliever Takoda Metoxen (Onieda Nation) delivers in the seventh for Memphis who outlast Cincinnati for a 7-5 win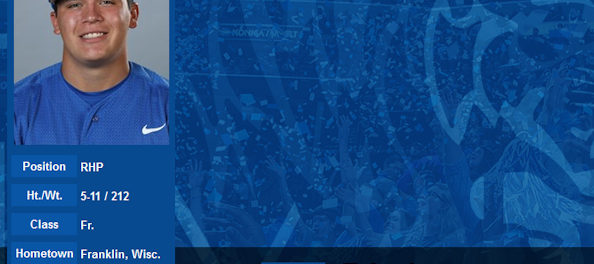 CINCINNATI, Ohio – Memphis outlasted Cincinnati for a 7-5 win and a series victory over the Bearcats Sunday at Marge Schott Stadium. The Tigers (18-9, 2-1 AAC) picked up their first series win over Cincinnati since 2004 and opened American Athletic Conference play with a series win.
As the Tigers approach the midway point of the season they have won six straight weekend series and have gone 11-4 over the last 15 games.
Connor Alexander started and was great again, recording his fourth consecutive quality start and the fifth this season. He pitched 6 1/3 innings and allowed just one earned run on five hits. With the win he improved to 5-1 this season.
Blake Bennett pitched for a third consecutive day out of the bullpen and recorded his first career save for the Tigers, allowing one run on two hits in the ninth inning.
Freshman reliever Takoda Metoxen (Onieda Nation) came into the game in a pressure-packed situation in the seventh with the bases loaded and one out. Metoxen delivered, getting two fly outs to end the threat.
Memphis started the game with a four-spot in the top of the first inning. The Tigers mashed five hits in the inning and chased the Bearcat starting pitcher Reese Davis from the game after recording just one out.
Webb and Trela both singled to start things and Chris Carrier was walked to load the bases with one out. Andy Bowman, who had been held hitless in the first two games of the series, smashed a double off the wall in right field to drive in the first two runs.
Trent Turner walked to load the bases back up and Cincinnati went to the bullpen. Zach Schritenthal and Jason Santana each singled to drive in a run apiece and make the Memphis lead 4-0 after half an inning.
Cincinnati got on the board in the third as the Tigers' old nemesis Treg Haberkorn smashed a solo home run to right field.
Cincinnati cut into the lead further with another run in the fifth. After a leadoff walk started the inning, the Bearcats lined a single to left field that was followed by the Tigers third outfield error of the weekend, allowing the run to score.
Carrier provided some big insurance runs in the eighth with a two-run blast to left field in the eighth inning. The homer was Carrier's second of the weekend and extended the Tigers' lead to 7-2.