RayQuan Evans (Crow Tribe) poured in a career-high 42 points, leading 3rd-ranked North Idaho College to a 100-87 victory over Treasure Valley CC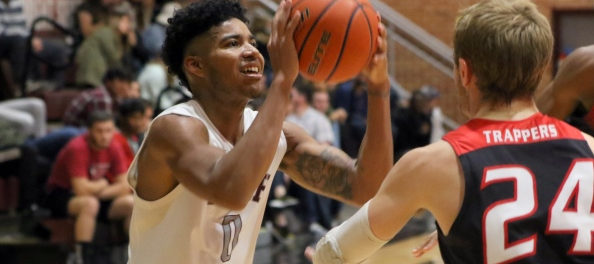 Freshman RayQuan Evans poured in a career-high 42 points and grabbed a game-high 13 rebounds, leading 3rd-ranked North Idaho College to a 100-87 victory over Treasure Valley CC Saturday night at Rolly Williams Court. The victory was the 100th career win for head coach Corey Symons and assistant coach George Swanson in just their 4th season.
Symons gave all the credit to the players for reaching the 100-win milestone, "Coach "G" and I have been blessed with some outstanding young men over the years. We share this with them."
Evans, 6th in the NWAC in scoring at 21 ppg, was 13 of 20 from the field and 13 of 16 from the free throw line. In all, 4 Cardinals scored in double-figures.
Freshman post Jared Greene recorded a double-double, 15 points and 11 rebounds as the Cardinals (19-5, 9-2) out rebounded the Chukars (8-14, 4-6) 51-31. Sophomore Tyler Brimhall hit 3 of 4 from beyond the arc for his 14 points while sophomore Aushanti Potts-Wood added 10 points coming off of the bench.
The Cardinals, tied for first place in the Eastern Division of the NWAC with Walla Walla at 9-2, host Big Bend CC on Wednesday night.
Tip-off is 20 minutes after the conclusion of the Women's game, which starts at 6pm. If you can't make it to the game, watch the action live on our You Tube channel at Nicathletics.com.