Haskell Indian Nations University women's basketball Earn the No. 2 Overall Seed in upcoming A.I.I. Conference Tournament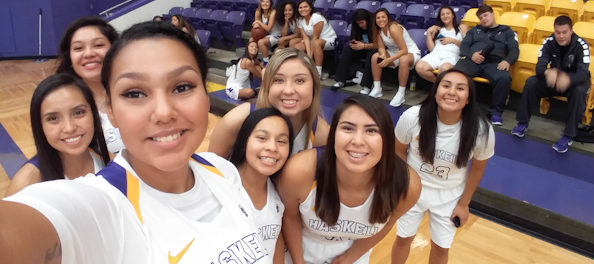 Teams from the College of the Ozarks (Mo.) and Haskell Indian Nations University (Kan.) have earned first-round byes for the 2018 Association of Independent Institutions Women's Basketball Championship Tournament, taking place Feb. 23-25 at Indiana University Northwest in Gary, Ind. The league announced the tournament's first-round pairings Monday, Feb. 12.
The opening day, Feb. 23, will feature No. 3-seeded Stillman College (Ala.) playing the No. 6 seed Fisher College (Mass.) at 2 p.m. The winner will advance to face No. 2 seed Haskell Indian Nations in one of the Feb. 24 semifinal games.
Meanwhile, the other first-round contest features the host Redhawks as the No. 4 seed against No. 5-seeded Washington Adventist University at 4:30 p.m. The winner will square off against top-seeded College of the Ozarks in the semifinal round.
The semifinal games of the 2018 A.I.I. Women's Basketball Tournament will tip at 4 p.m. and 6:30 p.m., with the championship game scheduled for Feb. 25, starting at 2 p.m. Both teams in the championship game will receive automatic bids to represent the league in the NAIA Division II national tournament.
2018 A.I.I. Women's Basketball Tournament Schedule
Friday, Feb. 23 (First Round)
No. 4 Indiana University Northwest vs. No. 5 Washington Adventist University, 2 p.m.
No. 3 Stillman College vs. Fisher College, 4:30 p.m.
Saturday, Feb. 24 (Semifinals)
No. 2 Haskell Indian Nations University vs. Game 2 Winner, 4 p.m.
No. 1 College of the Ozarks vs. Game 1 Winner, 6:30 p.m.
Sunday, Feb. 25 (Championship)
Semifinal Winner 1 vs. Semifinal Winner 2, 2 p.m.