Playground of the Native Son; Opens, Friday October 10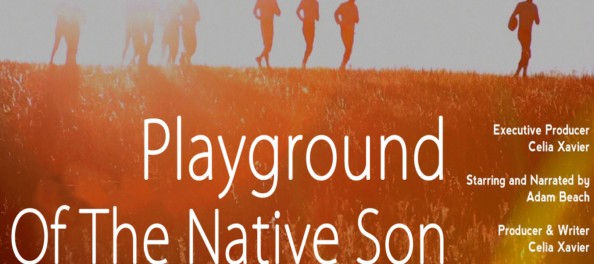 Special screening 7:30 Friday, October 10th,  followed by Q&A session with Writer/Director Celia Xavier and actors from film at Circle Cinema located  at Twelve South Lewis Ave, Tulsa, Oklahoma 74104.
There was an All-Native American Professional Football team in Oklahoma during the 1920′s and early '30′s. Consisting entirely of Native blood to form a team called 'The Hominy Indians'. Twenty-two different tribes were represented, some played for one game, some for years. Founded and financed by two Osage brothers, Ira and Otto Hamilton. They had a 22 game winning streak and had the chance of a lifetime to play against the World Champions, the New York Giants, in 1927. John Levi, was their star player and then coach. Jim Thorpe called him the greatest athlete he had ever seen. What happens during the pre-game speech by the Coach to inspire this team to dig deep is a speech so motivating that it will be used in locker rooms for generations to come. This is their story.
"The historic, jaw-dropping, climax came when the Indians played the New York Giants, the day after Christmas in 1927. The Giants thought playing the Indian team was a joke and at halftime the Indians were trailing in the game," Xavier said. "They played for the love of the game, but realized in this single game they were fighting for much more." – Celia Xavier
Several Native Americans took part in the making of the film, including Tribal Councilor Joe Byrd, musician Tommy Wildcat, Cayle and Kyle Shambaugh, Nick Rabbit, Stacey Nofire, Walker Robles, Brian Worrell, Kiah Smith, Trent Phillips, James Callie-Wildcat, Tammy Buchanan and Steven Everett Poe, Mark Casey. Others taking part in the film were former Osage Principal Chief Jim Gray, former Delaware Chief Dee Ketchum, Congressman John Maker and Congressman Archie Mason.
The film was shot in Oklahoma with part of it on several acres of Cherokee Nation citizen Annie Moore's original allotment land in Ramona, near the tribe's casino, and in CN citizen Marilyn Moore-Tate's land in Dewey. The film is produced, directed and written by Xavier and co-directed by award-winning documentarian Michael Nash of Mosaic Media.