Oklahoma State Cowboys Take Down Charlotte on Nike N7 Night; Lindy Waters (Kiowa/Cherokee) had game high 5 assists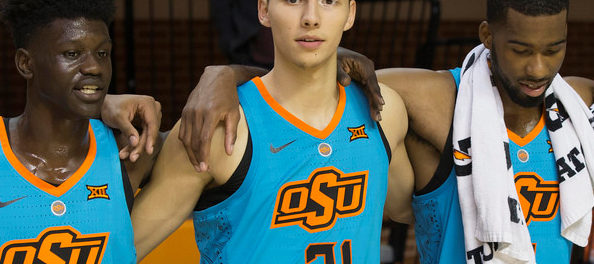 STILLWATER, Okla. (AP) — Kendall Smith scored 19 points — 17 in the first half — and Tavarius Shine had 17 points to lead Oklahoma State to an 83-65 victory over Charlotte Monday night.
Smith, a grad transfer from Cal State Northridge, had five of his six rebounds in the first half, and also had three assists for Oklahoma State (2-0), which had five players hit double-digit scoring for the second straight game. Shine finished with 17 points, which is a new career high for him. He has scored in double figures in both games this year, and this was the 10th career double figure scoring game for Shine.
Oklahoma State continued to play a stifling, pressuring defensive style, limiting the 49ers to just 34.6 percent shooting (18 of 52), including just 26.1 percent in the opening half (6 of 23).
Friday, in their season opener, the Cowboys held Pepperdine to just 28.3 percent shooting (13 for 46), including 18.8 percent (3 for 16) from 3-point range.
Oklahoma State debut their Nike N7 uniforms for the first time this season and will do so at a few more games this month. Lindy Waters, III, (Kiowa/Cherokee) added a game high 5 assists and added a basket.
BIG PICTURE
Smith looked like an elite player in this one. He'd already surpassed his opening-game totals in points and rebounds well before halftime and simply controlled the floor when he was out there, especially during the first half. He played just nine minutes in the second half.
UP NEXT
Oklahoma State: The Cowboys remain at home for the third straight game, hosting Oral Roberts on Thursday night.