Fort Lewis College sophomore guard Kayla Herrera (Chippewa) has been named the Rocky Mountain Athletic Conference Defensive Player of the Week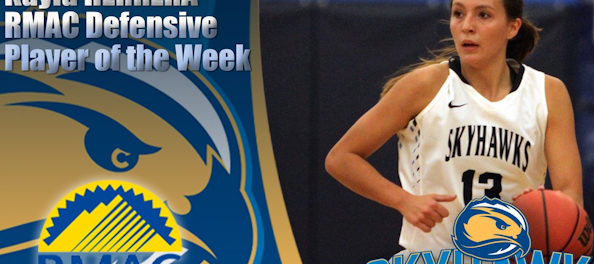 By: Sarah Meier, Assistant Athletic Director
DURANGO – November 13, 2017 – Fort Lewis College women's basketball sophomore guard Kayla Herrera (Chippewa) has been named the Rocky Mountain Athletic Conference Defensive Player of the Week, announced today by the league office.
The 2017 RMAC Freshman of the Year, Herrera helped the Skyhawks to a 2-0 opening weekend at home against Texas-Permian Basin and Eastern New Mexico University.  She averaged a double-double with 11.0 rebounds (5.5 defensive rebounds per game) and 11.0 points per game.  Herrera tallied seven steals and blocked one shot.
Nineteen of Herrera's points came on Friday against the Falcons.  She finished the game with 13 points, one rebound and three steals.  The following game against ENMU, Herrera tallied three points, nine rebounds and four steals.
The Skyhawks will continue their three game homestand on Thursday against Northern New Mexico.  Tip-off is at 5:30 p.m.