Oklahoma City Thunder would like to invite Native Basketball Coaches to Annual Coaching Clinic in August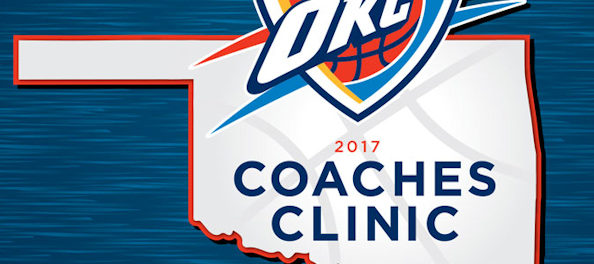 (Oklahoma City, OK ) – The Oklahoma City Thunder would like to invite all native basketball coaches from all levels of coaching to the seventh annual coaches clinic at Chesapeake Energy arena on Saturday, August 19.
Thunder head coach Billy Donovan is scheduled to speak at the seventh annual event that will be led by Mark Daigneault, head coach of the Oklahoma City Blue, and will feature sessions from coaches from across the U.S.
The Coaches Clinic offers an in-depth look at coaching techniques and team development, and is open to basketball coaches at any level. Additional session-leaders for the daylong clinic include Mike Boynton, men's basketball head coach for Oklahoma State University; Bobby Hurley, men's basketball head coach for Arizona State University; Amanda Butler, former women's basketball head coach for the University of Florida; Tom Crean, former men's basketball head coach for Indiana University; and Adam Cohen, men's basketball assistant coach for Stanford University.
"We are excited for the group of coaches who are scheduled to speak on a wide range of basketball topics at this year's Coaches Clinic," said Brian Byrnes, Thunder senior vice president of Sales and Marketing. "We are proud to offer a forum that promotes learning, fuels a shared passion for basketball and seeks to grow the game throughout our region."
Coaches at all levels, from neighborhood teams to high school squads, are encouraged to register in advance for the clinic. Online registration for coaches is $35 and ends at 6 p.m. on Friday, Aug. 4. Registration at the door will be $65. A group discount is also available online during advance registration and allows four coaches to register for the price of three. Visit okcthunder.com/coachesclinic for more information and to register.