Notah Begay III (Navajo) shoots a 59 at Santa Ana Golf Course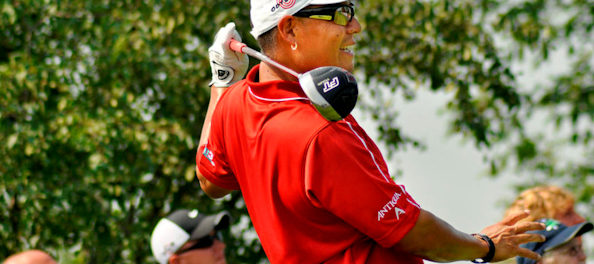 By ABQJournal News Staff
Albuquerque's Notah Begay III, one of very few golfers to shoot a 59 in a pro tournament, reached the milestone again July 10. This time, it came in a pro-am at Santa Ana Golf Club.
With a group of fans, friends and relatives following him in the event — which is a yearly fundraiser for junior golf and other charities — Begay knew he was hot. But he said he didn't realize how hot.
"Every now and then, the putts start falling and I just rolled with it," Begay told the Journal. "My bother (Clint Begay) actually noticed the scorecard, and said 'Wow, bro, the scorecard looks pretty good right now.' I didn't pay much attention until the end when I added it up and it was a 59. It was a lot of fun."
In 1998, Notah shot 59 in Richmond, Va., on a par 72 course on what is now the Web.Com Tour at the Dominion Open. At the time, that was tied for the lowest in pro tournament history. That mark is now 58, one such round coming by Jim Furyk last year on the PGA Tour.
(Story via ABQ Journal Website at https://www.abqjournal.com/1035815/begay-shoots-a-59-at-santa-ana.html)