Haudenosaunee Nationals Finish 12th at FIL World Cup Tournament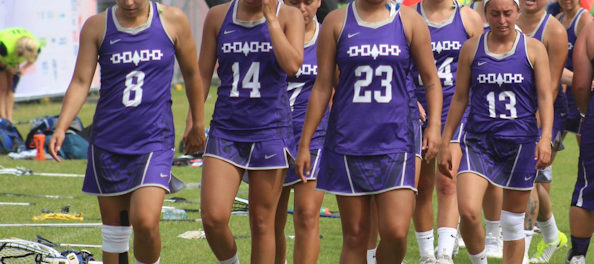 GUILDFORD, England – Erin Francis  recorded six points to lead the Haudenosaunee Nationals in their 18-17 loss to Italy on Friday, July 21 at the 2017 Federation of International Lacrosse (FIL) World Cup in Guildford, England. The Haudenosaunee finished in 12th place at the event.
After Italy scored the first goal of the game, the Haudenosaunee tallied four straight goals to take a three-goal advantage. Francis had a goal during the run, while Awehiyo Thomas had a goal and an assist. Italy answered with a 4-0 scoring run of its own to retake the lead, 6-5. The teams battled for the remainder of the first half and went into the locker rooms at halftime tied at 10-10.
The squads traded tallies to start the second half before Francis assisted on the first of three straight goals for the Haudenosaunee, which gave it a 14-11 lead. Thomas gave the Haudenosaunee a 16-14 lead with 4:01 remaining before Italy recorded four straight goals to take an 18-16 advantage. The Haudenosaunee scored with 40 seconds remaining, but couldn't get the equalizer.
Francis finished with three goals and three assists, while Thomas had three goals and an assist.  Wadata:wi Bomberry added a pair of goals, and goalkeeper Amber Hill-Donhauser finished with 14 saves.