No. 8 Louisville Women's Basketball Plays at Virginia Tech on Thursday on ESPN3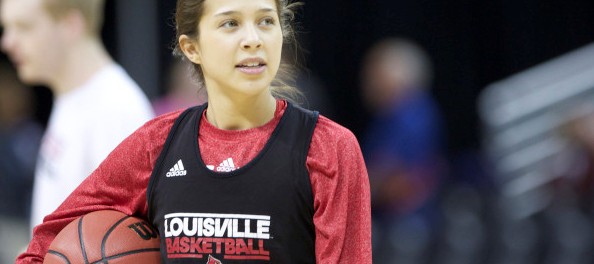 BLACKSBURG, Va. – The University of Louisville women's basketball team is taking its three-game winning streak on the road to face Virginia Tech on Thursday at Cassell Coliseum in Blacksburg, Va., at 7 p.m.
The Feb. 19 contest will air on ESPN3, with Danny Nokes (play-by-play) and Mack McCarthy (analyst) on the call. The radio broadcast will be available on WKRD 790 AM in Louisville, with Matt Andrews (play-by-play) and Adrienne Johnson (analyst) calling the action.
No. 8 Louisville (22-3, 10-2 ACC) recorded its fourth top-25 victory of the year, defeating No. 17 North Carolina 75-66 on Sunday. The Cardinals outrebounded the Tar Heels 47-33, including 20-11 on the offensive end, and hit 26 of their 30 free throws in the win. Defensively, Louisville limited North Carolina to 6-for-21 from 3-point range and forced the Tar Heels into 21 turnovers.
In the game, freshman Mariya Moore scored a game- and season-high 28 points. She went 11-for-12 at the free throw line, marking the most free throws made by a Louisville freshman in school history. Myisha Hines-Allen added 13 points, and Emmonnie Henderson had eight points, six rebounds, and two steals.
For the year, Moore leads the squad in scoring (14.1), assists (98), and 3-pointers (41). She is 11th in the conference in free throw percentage, boasting a 77.5 percent clip. Hines-Allen is second in scoring (12.3), and Hammond, who is averaging better than 11 points per game (11.2), is grabbing a team-high 6.8 rebounds. Bria Smith (52) and Jude Schimmel (51) rank first and second in steals.
The Hokies (10-16, 1-12 ACC) have lost their last six games, most recently falling 59-51 to Syracuse on Sunday. The Hokies, who led with less than three minutes remaining, shot just 29.6 percent from the field, and the Orange scored 12 points off the Hokies' 21 turnovers. Syracuse knocked down 13 more free throws, and Virginia Tech made just 5 of its 20 3-pointers.
Vanessa Panousis paced Virginia Tech with 18 points, but had a team-worst seven turnovers. Hannah Young had nine points and 14 rebounds, and Rachel Camp was held to seven points on 3-of-10 shooting and six rebounds.
On the year, Panousis leads the team in scoring (13.2) and assists (83). She has connected on a team-best 59 3-pointers. Camp is averaging 12.6 points and 6.2 rebounds, and Taijah Campbell is contributing 7.8 points and 7.1 rebounds.
The Hokies are under the direction of fourth-year coach Dennis Wolff, who has a 41-75 record at the helm of the program. Virginia Tech was picked to finish 12th in the ACC Preseason Media Poll after going 14-16 last year.
GAME FACTS – Louisville at Virginia Tech
Date: Thursday, Feb. 19
Time: 7 p.m. ET
Site: Cassell Coliseum, Blacksburg, Va. (10,000)
TV: ESPN3 will broadcast the game, with Danny Nokes (play-by-play) and Mack McCarthy (analyst) calling the action.
Radio: WKRD 790 AM will broadcast the game, with Matt Andrews (play-by-play) and Adrienne Johnson (analyst) calling the action.
Series History: Virginia Tech leads 17-15 (7-7 in Louisville, 10-5 in Blacksburg, 0-3 neutral).
Last Meeting: Virginia Tech defeated Louisville 68-60 on Feb. 26, 1995, in Blacksburg, Va.
Next UofL Game: Thursday, Feb. 19 at Virginia Tech, Cassell Coliseum, Blacksburg, Va., 7 p.m. ET