Nevada Junior Terae Briggs (Crow Tribe) scored 14 in her season debut as Wolf Pack fall to Utah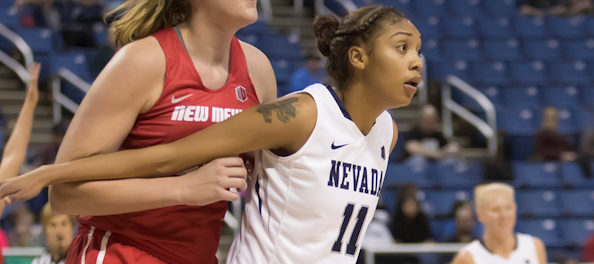 SALT LAKE CITY, Utah – In its season opener, and first game led by head coach Amanda Levens, the Nevada women's basketball team dropped an 87-61 decision Friday night to Utah.
Junior Terae Briggs (Crow Tribe) was the Wolf Pack's (0-1) only player to finish in double figures, scoring 14 in her season debut, which included the first three of her career. Elsewhere the Pack got pretty balanced scoring from up and down its lineup. Senior Teige Zeller produced nine points, while senior Halie Bergman and juniors AJ Cephas and MorningRose Tobey (Sioux) each notched eight points.
Nevada was ultimately plagued by a rough third quarter in which the Utes (1-0) outscored the Pack, 23-13, to extend its lead to 20 with one quarter to play. Utah shot 45 percent in that third quarter and made a 17-2 run midway through the period. The Pack found its touch in the fourth, scoring a game-high 22 points, but Utah's Tori Williams broke it open for the Utes by hitting six threes in that 10-minute span.
The Pack came out sharp to start the game, knocking down 3-of-3 from beyond the arc in the first quarter. Nevada hung with the Utes for much of the opening period, trailing by just three after 10 minutes of play. The Wolf Pack hit 4-of-4 from beyond the arc before its first miss midway through the second. The Nevada defense held Utah to just 38.1 percent shooting in the first quarter, just 1-of-6 from the three-point line. Nevada's downfall however came when it did not record a field goal in the final 6:10 of the first half, allowing Utah to stake a 10-point halftime lead, 36-26.
Nevada hosts Portland State this Sunday, Nov. 12 at 2 p.m. for its home opener at Lawlor Events Center. Season and single game tickets are on sale now by calling (775) 348-PACK, visiting NevadaWolfPack.com or stopping by the ticket office inside Lawlor Events Center.
Postgame notes
-For junior MorningRose Tobey, tonight's game was just the second start of her career and her first in two years.
–MorningRose Tobey went 2-of-4 from the three-point line, tying her career high in threes made in a single game.
-Nevada started the game 4-for-4 from beyond the arc, before its first miss midway through the second quarter.
-Junior Terae Briggs connected on the first made three-pointer of her career as time expired in the third quarter.
–Terae Briggs finished with 14 points, the 12th game in double figures in her career.
-Tonight was the first road season opener for the Wolf Pack since it opened at Utah Valley to start the 2013-14 season.
-Tonight marked the head coaching debut at Nevada for Amanda Levens.
-The all-time series between Nevada and Utah now stands at 6-0 in favor of Utah.