Analyss Benally (Navajo) opened the season with 9 Points as San Jose State falls to the #7 ranked UCLA Bruins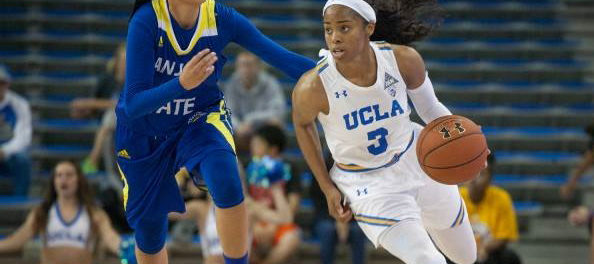 Los Angeles, Calif. – The UCLA Bruins entered the 2017-18 season ranked as high as seventh in the nation and on Friday night showed the San José State women's basketball team just how good are in a 129-69 victory in historic Pauley Pavilion.
The 60-point loss and 129 points allowed by SJSU are the second most in program history, bested only in a 149-69 defeat to Long Beach State on February 16, 1987. In addition, the 129 points scored by UCLA (1-0) are a record for that program.
The game was competitive for the first 16 minutes, but the Bruins size was a factor from the outset. Myzhanique Laddscored 11 points in the first quarter, but UCLA shut her down the rest of the game. The Bruins shot 68 percent in the first quarter, scored 24-of-38 points in the paint and took a 38-26 lead into the second period.
In the second quarter a three-pointer from Hallie Gennett, who finished with nine on 3-for-5 shooting from beyond the arc, got the Spartans (0-1) to within 11 with 8:24 to go, but they would get not closer. UCLA finished the period on a 27-8 run including a 19-2 spurt in the final 4:54 for a 69-38 halftime advantage.
In the final 20 minutes, UCLA continued to build its lead before coming away with the 60-point blowout.
Joining Ladd with 11 points was freshman Megan Anderson. Analyss Benally (Navajo) hit a career-high nine points and Taylor Turney chipped in nine points as well.
The Spartans next game is next Friday, November 17 against CSU Bakersfield in the Event Center. Tip off for the home opener is scheduled for 7:00 p.m.