Michael Buchanan (Blackfeet) collected his 21st career double-double as USC-Upstate Ends Road Trip with 84-71 Win at North Florida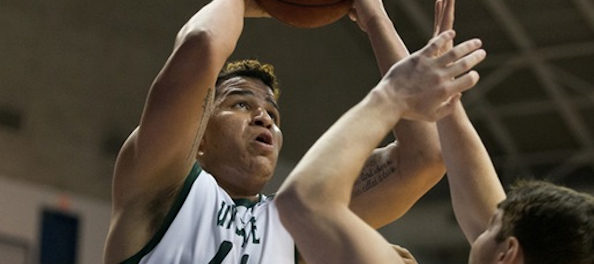 Jacksonville, Fla. – Mike Cunningham poured in a career-high 28 points to lead four Spartans in double-figures as the USC Upstate men's basketball team scored an 84-71 victory over the North Florida Ospreys Saturday evening in ASUN play from UNF Arena.
Upstate improves to 17-11 on the season and 7-4 in conference play, while North Florida falls to 11-17 overall and 6-5 in the league. With the win, the Spartans are now in sole possession of third place in the ASUN standings.
Along with the 28 points from Cunningham, Michael Buchanan (Blackfeet Tribe) collected his 21st career double-double after finishing with 22 points and a game-high 13 rebounds. Malik Moore added 16 points and Philip Whittington 10.
Dallas Moore led the Ospreys offensively with 26 points, and was joined in double-digits by Wajid Aminu and Chris Davenport with 15 points each.
GAME BREAKDOWN
Upstate began the game on an 8-1 run as Buchanan scored six points during that stretch with his last bucket giving the Spartans a seven-point lead less than three minutes in.
North Florida came back seven minutes later and tied the game at 14-14 on a pair of free throws by Garrett Sams with 10:53 remaining.
The score would be tied four times the remainder of the half as Upstate held a four-point lead, 24-20, at the 4:48 mark after Buchanan completed a 3-point play.
Another free-throw by Buchanan with 35 seconds left in the first half gave the Spartans a 29-27 lead, but the Ospreys scored the final four points, including a last-second three from Aaron Horne, to lead 31-29 at halftime.
Upstate came out and started the second half on a 9-0 run and went in front 38-31 with 17:36 left.
After Aminu cut the lead down to 46-41 with 13:48 remaining, the Spartans went on another run, this time 11-0 over 3:31, and took a 57-41 advantage following a layup by Cunningham.
Upstate took its largest lead of the game at 64-43 at the 8:12 mark on another layup from Cunningham.
North Florida cut into the Spartans lead courtesy of an 11-0 run and Upstate led 64-54 with 5:45 to go on two free-throws.
The Spartans answered each Osprey field goal over the next two minutes and were in front 75-61 with 3:04 left after Moore's layup.
North Florida would only get as close as seven points, 77-70, the rest of the way after Davenport connected on a 3-pointer with 1:20 remaining.
Cunningham and Moore combined to score the final seven points for Upstate with five coming at the charity stripe.
Moore's dunk with 33 seconds left sealed the 84-71 victory for the Spartans.
UP NEXT
Upstate plays its final two home games of the regular season next week beginning on Thursday, Feb. 16 at 7 p.m. against Stetson.