Jackson Thomas (Navajo) Sets Multiple 3000m Indoor Track Records as Bacone Shines at 2nd Annual Gorilla Classic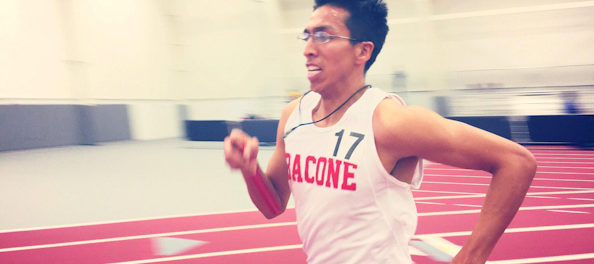 (Pittsburg, KS ) – The Bacone College men's and women's indoor track and field teams enjoyed another successful track meet as the Warriors wrapped up competition this past weekend at the 2nd Annual Gorilla Classic which was held Friday and Saturday in Pittsburg, Kansas.
At the end of the day on Friday the Bacone warriors had quite a few good performances. The day started when Dymond White placed 8th in the weight throw with a throw of 16.11 meters. While her sister Dominique White has a personal best throw of 15.75 meters which placed her 9th overall and which was just 2 inches shy of national qualifying.
When the running events got started transfer Joycelyn Smith got things started on the track as she ran the 60 meters in 8.24 seconds and would come back later and run the 200 meters in 27.25 seconds. Maurice Harris continued to show improvement as he set a personal best in the 60 meters with a 7.23 seconds and would come back to run the 200 meters also in a 23.76
In the last two races of the 1st night Brittnay Curley (Navajo) ran the 5k in 20:06.03 to set a school record and personal best by almost 19 seconds. Then Ryan Lang would end the night by running a 7 second personal best to run a 15:33.17 for the 5k.
The highlight of the 2nd day of the track meet was when Jackson Thomas (Navajo) ran the 3k to win it in a time of 8:03.50 which gets him an automatic ticket to nationals in the 3k. Jackson's time currently ranks him 1st in the nation in the 3k. Jackson's performance shattered his school record by 28 seconds and also gave him the facility record and meet record.
The team will send a selective few members to a last chance meet at University of Nebraska this coming weekend while the rest will prepare for indoors nationals.