Mason Fine (Cherokee) Throws for 167 Yards against Iowa Hawkeyes but North Texas Can't Finish Upset Bid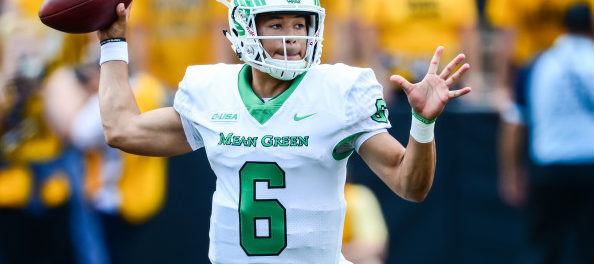 IOWA CITY, IA – The Mean Green didn't just bounce back from last week's disheartening loss in Dallas. They battled back. They attacked the Iowa Hawkeyes with aggressive play calling on offense, a hard-hitting performance on defense and some big plays on both sides of the ball, and gave themselves a chance for an upset victory Saturday afternoon at Kinnick Stadium.
But in the end the Mean Green made far too many mistakes to win. North Texas was flagged 13 times for 119 penalty yards, failed to convert a third down all day and missed multiple scoring opportunities. With their offense defused in the second half and their defense wearing down in the final period beneath Iowa's power offense, which ran 40 more plays than UNT, the Mean Green finally succumbed in a 31-14 loss.
"I think they went out there and believed they could accomplish something no one else thought they could," North Texas head coach Seth Littrell said. "We played extremely hard and did a lot of good things. We had some mistakes in the first half that cost us. But we talked all week about having a chance to in the fourth quarter to win, and they gave themselves that chance."
The game was even most of the first half and North Texas (1-2) moved the ball well, getting a 41-yard touchdown run from running back Jeffery Wilson for a 7-0 lead. With Iowa up, 10-7, late in the half, North Texas quarterback Mason Fine (Cherokee Nation) was injured when Iowa roughed the sophmore play caller. Backup QB Quinn Shanbour responded, engineering a 66-yard scoring drive and connecting with Jalen Guyton on a 13-yard scoring toss for a 14-10 lead at halftime. It was the first touchdown pass of Shanbour's career.
However, the Mean Green missed two other scoring chances in the first half. A 40-yard field-goal attempt by Trevor Moore was blocked, and North Texas appeared to have a golden opportunity when linebacker E.J. Ejiya sacked Iowa QB Nate Stanley and forced a fumble. Defensive tackle Ulaiasi Tauaalo recovered the loose ball and returned it deep in Hawkeye territory, but he was stripped of the ball by Iowa's James Butler, who recovered the second fumble of the play to end the threat.
Fine returned in the second half, but the Mean Green could not find the momentum of the opening half. North Texas had 93 yards and six first downs in the second half, managing just 20 yards total offense in the fourth quarter.
As hard as the Mean Green defense played Saturday, it was stung by the same issue that has dogged this team: the inability to stop opponents on third down. Iowa converted 11-of-18 third downs, made good on four-of-five fourth downs, and punted only once.
"We've got to do a better job getting off the field on third down," Littrell said. "We've got to get that fixed."
Iowa (3-0) just pounded the ball most of the second half and controlled the clock and the game.
"That's what they do," Littrell said. "You're not going to get as many possessions against them."
Iowa took the lead for good in the third quarter, scoring on one of those fourth-down conversions to go up 17-14. North Texas could not mount a comeback, crossing midfield only once the rest of the way. The Hawkeyes added two touchdowns in the fourth quarter to put the game away.
North Texas opens Conference USA play on Saturday, Sept. 23, against UAB. Game time is 5:30 p.m.