Mason Fine (Cherokee) continues to tighten his grip on the starting QB job for North Texas football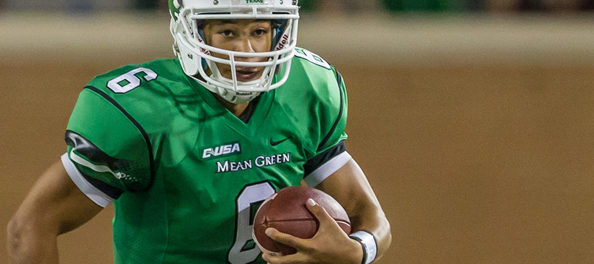 (Denton, TX) – Quarterback Mason Fine (Cherokee Nation) continued to tighten his grip on the starting job Saturday, when the North Texas football team held a full length scrimmage at Apogee Stadium.
Fine hit Jalen Guyton for a 25-yard touchdown, Greg White from 19 yards out for another scoring strike and had by far the most success moving UNT's offense.
The Oklahoma native missed the final three games of 2016 with a shoulder injury. He resumed practice during the spring but just now appears to be getting back to the form that made him a member of Conference USA's All-Freshman Team.
Fine took most of the reps with UNT's first-team offense during the scrimmage. That extended playing time allowed him to continue to developing chemistry with Guyton, White and a host of other receivers he will rely on in his sophomore season.