Mars-Garrick(Narragansett Tribe) Returns to Hawks as Women's Basketball Graduate Assistant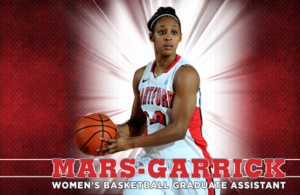 WEST HARTFORD, Conn. – Former University of Hartford women's basketball player Keyokah Mars-Garrick will return to Hartford for the 2014-15 season joining the coaching staff as a graduate-assistant. Head coach Jennifer Rizzotti announced the addition of Mars-Garrick on Monday.
"I couldn't be more thrilled to welcome Keyokah back to Hartford," said Rizzotti. "I know she has gained valuable experience the past two seasons at the Coast Guard Academy allowing her to grow both personally and professionally since her graduation. I value her loyalty to me and the Hartford women's basketball program. I'm confident she will be dedicated to excellence in her pursuit of her MBA as well as her commitment to our players' development."
Mars-Garrick graduated from Hartford in 2012 with a degree in marketing from the Barney School of Business. During her tenure with the Hawks she won an America East Championship in 2011 and a regular season crown in 2009-10. Mars-Garrick was a part of four teams who earned post season berths, which includes two NCAA tournament appearances (2010, 2011).
The past two seasons, Mars-Garrick has served as an assistant coach for the United States Coast Guard Academy. Prior to joining the Coast Guard Academy she spent a month in Africa working with youth basketball players in Sierra Leone.
A native of Stonington, Conn., Mars-Garrick starred at Wheeler High School where she was named to the Connecticut High School Coaches Association Class S All-State Team in 2007-08. She is a Native American from the Narragansett Tribe and enjoys teaching her heritage to young children.