Mariah Stacona (Warm Springs) led Northwest University with 21 points in 53-72 Loss to University of Providence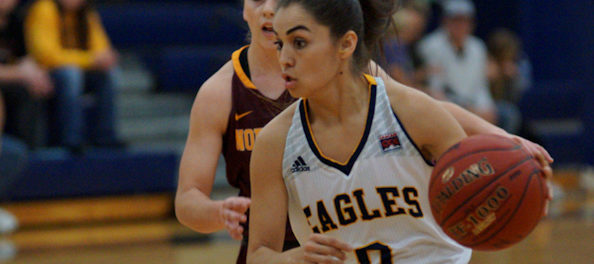 GREAT FALLS, Mont. – The University of Providence used strong second and third quarters to build a 21 point lead as they would go on to defeat Northwest University, 72-53, tonight in a non-conference game.
The Argos outscored Northwest U 44-29 in those to periods to lead 63-41 at the end of the third quarter. NU would come back to outscore the Argos 12-9 in the final period, but it would not be enough as the UP would post their sixth victory without a loss.
Mariah Stacona (Warm Springs Tribe) led Northwest U (1-3) with 21 points, hitting 4 of 9 three point attempts and added 5 steals. Teammate Hayden Craig scored 12 points and pulled down 7 rebounds while Hannah Carlson added 8 points and 5 rebounds. The Eagles shot 33% from the floor and from beyond the 3-point line.
For Providence (6-0) Stephanie McDonagh led the Argos with 22 points and 9 rebounds. Molly Herron scored 12 points, grabbed 8 rebounds and added 7 assists. UP hit 28 of 66 shots for 42% and 4 of 17 3-point attempts for 24%. The Argos dominated the rebounding with a 53-32 margin which included 20 offensive rebounds.
"Eagles lost another tough one tonight to a strong University of Providence team," said NU coach, Ken Crawford. "But, even in the loss we showed strong improvement in lots of areas. We continue to learn and play hard! We have one more game to go after tomorrow with Montana State Northern."