Keli Warrior (Ponca Tribe) Scores 17 for Haskell Indian Nations University in 78-67 Win over Southwestern College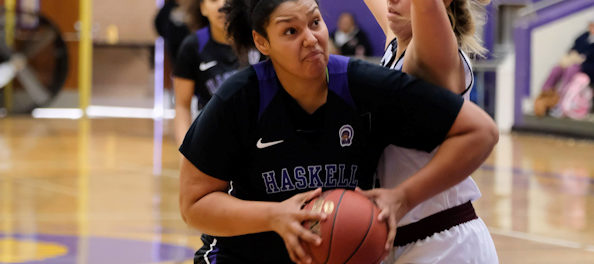 WINFIELD, Kan. –  The Haskell Indian Nations University women's basketball team picked up it's second road win of the season by defeating Southwestern College 78-67 in the final game of the 15th Annual Tara Patterson Memorial Classic. The two-day event took place inside historic Stewart Field House.
Kelli Warrior led the Haskell Indians with 17 points, while Sierra Penn had 12 points, and Kieyoomia Benally added 11 points to round out the
Haskell scored its first two points on free throws, and held the Lady Builders scoreless until the 7:26 mark, but a pair of free throws sparked a 7-0 spurt that gave Southwestern a 7-2 lead. But the Indians took it from there. Haskell closed the quarter on a 17-4 run, and took a 19-11 lead into the second quarter.
The Lady Builders cut the deficit to 19-16 just over a minute into the second quarter. Back-to-back Haskell buckets pushed the Indian lead back to 23-16, but two free throws and a bucket pulled the Lady Builders back to within three points at 23-20. Haskell countered with a 9-1 run over the next three minutes, and took a 32-21 lead with 4:28 remaining until halftime. The Indians never trailed by less than eight for the rest of the half, and took a 39-29 lead into the halftime intermission.
Southwestern came out of the locker room on a mission. Henderson buried a triple just under a minute into the period but Haskell reeled off an 11-0 run that gave the Indians a 50-38 lead near the midway point of the quarter. Haskell pushed its lead to 15 on two occasions in the third quarter, and held a 60-45 lead with one quarter remaining.
The Indians put the game essentially out of reach in the first three minutes of the fourth quarter. A 7-2 run to open the quarter gave Haskell its first 20-point lead, 67-47, with 7:46 to play. The Indians led by as many as 23 points, 72-49, with 6:28 to play, but the Lady Builders weren't quite finished yet. Southwestern took advantage of Haskell's mediocre free throw shooting, and turned up the defensive pressure. The result was a 16-4 Lady Builder run that brought Southwestern back to within 11 points of the Indians, 76-65, with 56-seconds remaining. But time ran out on the Lady Builders, and Haskell walked off the Stewart Field House floor with a 78-67 win.
Next up for Haskell is a road trip to take on William Penn University in Oskaloosa, IA on November 14th.