Lovie Lopez (Wintu Tribe) paces the Beavers with three RBIs as Oregon State Wins series versus UCLA for first time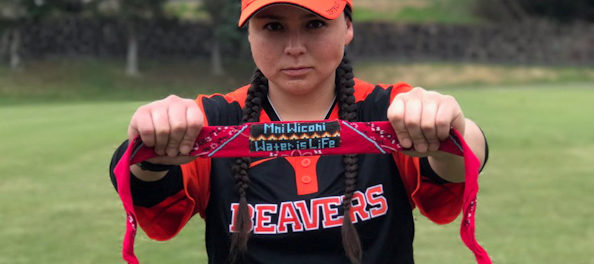 CORVALLIS, Ore. – For the first time in program history, the Oregon State softball team won the series against UCLA as Natalie Hampton smashed a three-run walk-off home run to defeat the No. 8/9 Bruins in the series' rubber match on Saturday afternoon at OSU Softball Complex.
The Beavers made history in the first game of the series, run-ruling UCLA and a top-10 Pac-12 opponent for the first time in program history. The Bruins stole game two of the series, 7-5, after OSU left the bases loaded in the last two innings.
UCLA did not waste any time getting on the board as it started the game with a lead-off homer to go up 1-0 early.
Both teams would struggle to put runners on until Oregon State put two aboard with two outs in the bottom of the fourth and Lovie Lopez (Wintu Tribe) due up next. The junior hit her fifth homer of the season to left field to give the Beavers a 3-1 lead.
OSU would hold its lead through the next inning, but in the sixth UCLA responded with a three-run home run and a RBI double to score four runs and to retake a 5-3 advantage.
Oregon State would get a run back in the home half of the inning after Katy McJunkin pinch hit and mashed an infield single to score pinch runner Riley Gregoire.
UCLA put a runner on in the seventh but left her there leaving the door open for the Beavers.
The comeback inning started with Jessica Garcia singling to right field before McKenna Arriola laid down a sac bunt to move her into scoring position. The following play, an error on the Bruins third baseman allowed Garcia to score and Shelby Weeks to move to second on the fielder's choice. Alysha Everett – who had seven RBIs so far in the series and slugging 1.333 – was intentionally walked to have the force at second. But that wasn't needed as Natalie Hampton worked a 2-2 count before pulverizing the ball down the right-field line to complete the comeback in walk-off fashion.
Natalie Hampton and Lovie Lopez paced the Beavers from the dish with three RBIs apiece, while Jessica Garcia finished perfect at the plate with a 3-for-3 performance.
Taylor Cotton started the game in the circle and hurled 5 2/3 innings before Nerissa Eason relieved her. Eason closed the game throwing the last 1 1/3 innings and recording the win after not allowing a hit.
Oregon State (21-18, 4-8 Pac-12) will host a non-conference game against Portland State on Tuesday starting at 1 p.m., before hosting Stanford for three games next weekend.