Louisville Women's Basketball Holds First Team Practice of 2014-15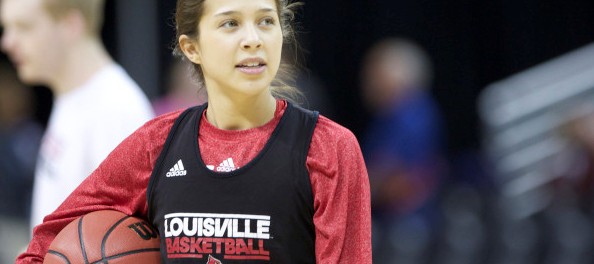 LOUISVILLE, Ky. – The University of Louisville women's basketball team officially started its 2014-15 season on Wednesday with its first team practice on Wednesday afternoon at Cardinal Arena.
The Cardinals, who are entering their inaugural season in the Atlantic Coast Conference, return eight letter winners – including senior Jude Schimmel (Umatilla)- from last season's squad that went 33-5 and advanced to the NCAA Elite Eight.
Under head coach Jeff Walz, now in his eighth season at the helm of the program, Louisville worked on multiple items in the three hours. Among the items, the Cardinals focused on transition defense, moving without the ball on offense, and rebounding – individually and as a team. The winningest coach in program history, Walz also applied concepts he practiced while with the U.S. Women's U-18 National Team over the summer.
Last season, Jude played in 33 contests and starting five of them where she  averaged 5.5 assists and 3.5 assists per game. She finished second on the team in steals with (54) and  had at least one steal in 26 games . On the offensive side Jude posted double-digit points in consecutive games in the NCAA Tournament and collected a combined 13 steals.
Currently inside the 40-day window from its first game of the year, Louisville is continuing preparations for the season opener at IUPUI on Nov. 14 in Indianapolis, Ind.
For the latest information on Louisville women's basketball, log on to GoCards.com, or, for up-to-the-minute updates, follow the team's Twitter account at www.twitter.com/UofLWBB or on Facebook at www.facebook.com/UofLWBB.