Lane Adams (Choctaw Nation) Named International League Batter of the Week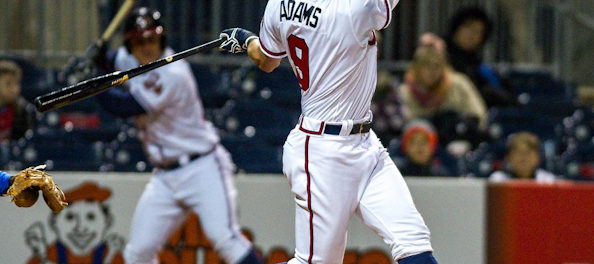 By Dave Lezotte / Gwinnett Braves
LAWRENCEVILLE, GA – The International League has named Gwinnett Braves' outfielder Lane Adams (Choctaw Nation) as its Batter of the Week for April 10-16.
Adams, 27, batted .450 (9-for-20) with a double, three home runs, seven runs scored, eight RBIs and two stolen bases in five games during the week as the G-Braves compiled a 6-1 record on the road. He led all IL batters in slugging percentage (.950), OPS (1.426), total bases (T-1st, 19), homers (T-1st) and RBIs (T-1st) in that span.
Highlighting Adams' award-winning week was a 4-for-5, two-homer, six-RBI effort in Gwinnett's 15-2 win on April 11 at Norfolk. In that game, he matched a career high with four hits and fell one homer and one RBI short of his single-game records in those categories (three-homer, seven-RBI game on August 13, 2013 with Double-A Northwest Arkansas vs. Corpus Christi). He is the first G-Brave to tally six RBIs in a game since Felix Pie did it on July 27, 2012 vs. Durham.
Adams is the 13th player in Gwinnett Braves history to win the IL Batter of the Week award and the first since Joey Terdoslavich won it for August 18-24, 2014. It is the third career weekly league award for Adams, who was also named the Double-A Texas League's Batter of the Week on June 30, 2014 and the Double-A Southern League's Batter of the Week on August 28, 2016.
A native of Talihina, Oklahoma, Adams is batting .313 (10-for-32) with a double, four home runs (T-1stin IL), eight runs scored, 11 RBIs (T-2nd in IL), two stolen bases and a .719 slugging percentage (1st in IL) in eight games for the G-Braves. He is in his first season in the Atlanta Braves organization after signing as a minor league free agent on December 4, 2016.
The Gwinnett Braves (7-4, T-1st in IL South) return to Coolray Field on Tuesday, April 18 with a 7:05 p.m. game vs. the Rochester Red Wings.