Lady Raiders Dominate Mountaineers on Road in Big 12 Play; Jamie Roe (Cherokee) provides defensive prowess for Tech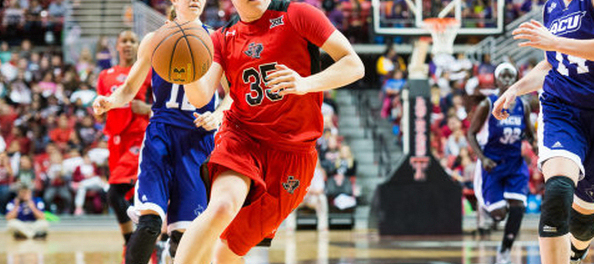 MORGANTOWN, W. Va. — Amber Battle scored 20 points to lead Texas Tech to a 55-45 win over West Virginia on Wednesday at WVU Coliseum.
It was the first road win for the Lady Raiders since beating Kansas, 72-70, on Feb. 24, 2013.
Tech (12-4, 2-2 Big 12) trailed West Virginia 15-6 at the 12-minute mark of the first half before rattling off a 30-6 run that extended into the first five minutes of the second half.
The Lady Raiders would go up by as much as 16 points in the second half – their largest lead in a Big 12 game since 2013.
The Mountaineers (10-6, 0-4) would cut the lead to as little as 10 points several times in the final six minutes before Tech was able to seal the game at the line and on defense. Tech forced 14 turnovers for nine points thanks in part to the defensive prowess of Jamie Roe (Cherokee Nation),Ivonne CookTaylor and Rayven Brooks, who forced two steals each.
Spears finished with 10 points – her highest in Big 12 play this season – while Brooks tacked on eight points and seven rebounds.
Tech will head to Austin to take on No. 4 Texas (13-2, 2-2) at noon on Saturday.