Jessica Spang (Northern Cheyenne) a gamer in famed career with hometown YellowJackets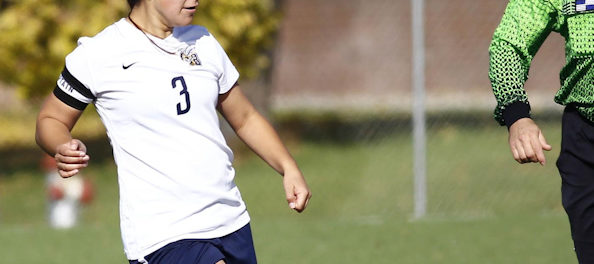 By Evan O'Kelly, MSUB Athletics Director of Communications
MSUB SPORTS – There has been yellow in Jessica Spang's (Northern Cheyenne) heart since the first time she set foot on a soccer field in uniform.
At age five it was the Yellow Dinos youth team and at age 21 it will be with the Yellowjackets as the Montana State University Billings senior prepares to step onto the field for the final time on Saturday. MSUB plays at Central Washington at noon Mountain time, and Spang will compete in her 62nd match since breaking into the program as a starter in the fall of 2014.
"I am most thankful for everything that college soccer has taught me," said Spang. "It helped me grow so much more as a person and leader. I had to face moments of adversity, and it has pushed me to step outside of my comfort zone."
One of those adverse moments came in MSUB's exhibition match against Rocky Mountain College on Aug. 26 at Herb Klindt Field. In the 33rd minute, she got tangled up with a defender and collapsed to the turf, instantly grabbing towards her invaluable right ankle.
This was not how she envisioned her senior season beginning.
"It was hard being out for a month and missing a couple of games," Spang commented on the frustration of the injury.
Though she was sidelined through MSUB's first six matches of the fall, it went without saying among the entire team that their lone senior would be back before too long. Returning to the field against Concordia on Sept. 21 Spang hasn't looked back since, starting nine games and playing in 10 overall this season.
Last Thursday in MSUB's 4-1 win over Saint Martin's University, Spang scored a goal in the 39th minute that made her the 16th player in the 21-year history of Yellowjacket soccer to reach double figures in career goals. Entering Saturday's match, Spang ranks 15th in school history with 29 total points, with nine assists to go along with her 10 goals.
"I find that Jessica is one of the most consistent players I have ever coached," said MSUB head coach Stephen Cavallo, who has been working with Spang since their joint arrival in advance of the 2014 season. "I first met Jessica in the summer before her freshman year, and she brought the same hard work to that session as she did on her Senior Day game trying to bring the team a goal. I will always remember Jessica for that."
IN THE MAGIC CITY
Spang has had a love for soccer since joining the Magic City club program, where she began developing skill as an attacking player leading into her career at Billings Skyview High School. "I loved being in the attack and having control of the ball," Spang said. "Setting my teammates up for success and scoring goals is a great feeling of excitement."
One of Spang's signature moments as a prep player came during the Falcons' run to the state title game in 2011, when she scored the game-winning goal in the 37th minute of a 1-0 semifinal triumph over Helena. She was her team's MVP and an all-state honoree as a senior, which set her up to enter the college level in stride.
A large part of Spang's decision to remain in her home town for college stemmed from her familiarity with MSUB's program. From attending the youth camps and matches at Yellowjacket Field as a kid, to being coached on her club team by former MSUB head coach Don Trentham, everything Spang was in search of for a college experience lay right in front of her. "I found the school to be a good fit for me personally, and I wanted to stay close to my family," Spang commented on choosing MSUB. "The program here was very competitive, and I thought it would be good to give it a try."
Spang scores the game-winner in Skyview's 1-0 win over Helena in the 2011 Montana state tournament semifinals.
It didn't take long for the awards to translate to her collegiate career, as Spang claimed the Great Northwest Athletic Conference Player of the Week award in the second week of her freshman campaign. Spang's first goal and assist came in a 2-0 shutout win over the University of Sioux Falls on Sept. 12, 2014, and she went on to total two goals and three assists in her debut season.


Playing as a forward, Spang had a key role in helping the 'Jackets claim second place in the league standings with a record of 11-4-2, and a spot in the GNAC Championships. "I didn't know what to expect as a freshman, but I knew I was going to have to work hard to earn a spot," said Spang. "I remember starting my very first game at Mary, and that was nerve racking and exciting."Her sophomore campaign was perhaps her best from an individual standpoint, as she turned in a 5-goal, 5-assist year to lead the team with 15 points while starting all 17 matches. The offensive outburst led MSUB to its third conference tournament appearance in a four-year span, and Spang had two of her four career game-winning goals along the way."After my freshman year I continued to work hard during the spring and into the summer," Spang said. "Even though I was just a sophomore (in 2015), I wanted to step up and be somebody that the incoming freshmen could look up to. I wanted to continue to grow and be a better player, and help my teammates do the same."
THE WRIGHT CONNECTION
One of those freshmen was the team's leading scorer that year in Alycia Wright, whose bond with Spang began to grow after a six-goal output during the fall of 2015. "I really enjoyed playing with Alycia on the field that first year, and we started building a good relationship," Spang said of her fellow forward. "Having her up top brought out confidence in me, and we knew we could count on each other to finish in big moments."
Spang set up Wright three different times during the 2015 season, and the duo have combined on five different occasions over the last three seasons with assists on the other's goal.
The Yellowjackets have a remarkable record of 12-1-1 when Spang has a goal or an assist, and she has impacted multiple goals five different times throughout her career. Though her offensive numbers were down due to being moved to a defensive role as a junior, she was named honorable mention all-GNAC as she received all-conference recognition for the first time in her career.
"In her time here at MSUB Jessica will have played in more than 60 games and tallied near double-digit numbers in both goals and assists," said Cavallo. "She will go into an elite class of women's soccer players in our program's history. It has been special to see Jessica stay in her hometown and attend school here. She has given countless hours back to the local youth soccer community, and I know she is an inspiration to up-and-coming players in the Billings area."
MORE THAN A SCORER
It was Nov. 18, 2016 and the memory of Spang's junior season was still fresh in her memory. The 'Jackets spent the next eight months preparing for the 2017 season, but on the brisk winter afternoon the entire squad took a break from its focus on soccer.
Attending a community engagement activity in a fourth-grade classroom at Eagle Cliffs Elementary School, Spang felt right at home in her future environment. The 'Jackets spent the day with alumna Janae (Remsberg) Welch's students, crafting Thanksgiving placemats and interacting with the children.
"I always wanted to be a teacher when I was younger, and I used to play as a kid pretending I was a teacher," said Spang, who is completing her degree in elementary education. "It's mainly because I have had so many influential teachers when I was growing up, and I wanted to be able to be that for future students."
Spang is a three-time academic all-conference selection, who has a 3.69 cumulative grade point average. Last spring, she was inducted into MSUB's Chi Alpha Sigma National Honor Society, reserved for student-athletes who maintain at least a 3.40 GPA while competing on a varsity Yellowjacket team. Spang credits a handful of instructors within MSUB's education department with her achievements in the classroom, mentioning language arts professor Lynette Schwalbe, reading instructor Dr. Rachael Waller, and Dr. Donna Bulatowicz as providing her with guidance over the last four years.
"Lynette is a teacher who I have felt really comfortable with and gotten to know, and her daughter went to Skyview so we have a connection there," said Spang. "Dr. Waller is now my advisor, and I have been able to learn a lot from her. She helps me feel comfortable in class and speak my mind. Professor Bulatowicz made an impact on me from how much knowledge she has as a teacher. I've learned a lot already and there's so much more I can learn from her."
"Jessica leaves a story of true perseverance. In her four years here she has seen the highs and the lows of the program, but she never gave up. She always gave her best on the field and in the classroom, and gave back to the community. She has made a huge impact on this year's freshman class, and I only hope they can honor Jessica in the rest of their careers here by carrying out the same positive attitude and top-notch work ethic she had." – MSUB head coach Stephen Cavallo on 2017 senior Jessica Spang.
The 2017 MSUB women's soccer senior day script only had one name on it, but it was far from brief as it was read out over the public address system at Yellowjacket Field on Oct. 14. Her mother Linda left the photography to someone else for the moment, taking a brief reprieve from documenting her daughter's every footstep at every home match over the last four years.
Her old youth basketball coach – father Bruce – gave her the biggest bear hug as the pregame clock trickled towards zero. Her brother Bruce Jr., a senior at Skyview and talented multi-sport athlete in his own right, also waiting at her side.
Belting out the Star Spangled Banner was freshman Lizzy Light, another Skyview product getting her career started with the 'Jackets this fall. "I feel like it won't hit me until I officially don't get to step on the field again," Spang said on the conclusion of her career. "It will be sad, and I know I will miss Stephen and the rest of my teammates."
It's a youthful squad, with only four total upperclassmen. Spang has been relied on more than ever to set the stage for a program in a building process, and with her final game upon her there's only one speed she knows how to play at.
"I knew right away I wanted to welcome the younger players and make them feel like they were in a good environment," said Spang. "I wanted to be for them what the older players were for me when I first got here."
On Saturday, Jessica Spang will go all out for her family one last time.