Janee Kassanavoid (Comanche Tribe) Takes Hammer Throw Crown on Day One of Big 12 Track & Field Championships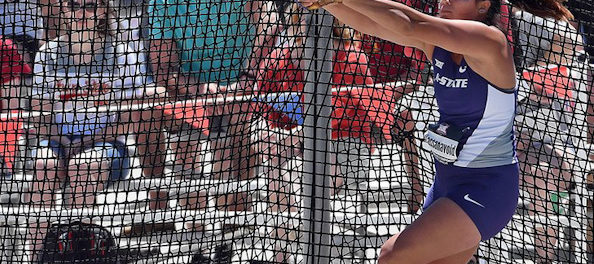 LAWRENCE, Kan. – Junior Janee' Kassanavoid (Comanche Tribe) saw her name on top of the hammer throw standings for the third time this season as she took home the Kansas State track and field team's ninth women's hammer throw title on day one of the Big 12 Championship at Rock Chalk Park.
Kassanavoid has now won two conference titles during the 2017 campaign after the Lawson, Missouri, native claimed the indoor weight throw championship in Ames, Iowa, in February.
"Winning the title today feels really good," Kassanavoid said about her performance. "Coach and I really wanted to work on consistency and getting those numbers closer to my PR. We are in the down stretch of training. The next two week are going to be crucial, though. We are going to keep working hard and keep pushing through the end of the season."
Kassanavoid got off to a quick start in the event, recording a mark of 62.03m/203-06 on her first attempt to take an early advantage. None of the other athletes in the field would come close to her initial attempt, as only two other athletes cleared the 60-meter mark.
The winning mark came on her second attempt, when she eclipsed the 63-meter mark with a toss of 63.07m/206-11. She went on to post three solid marks in the finals, all of which were over 60 meters, to preserve the victory for her first career Big 12 hammer throw title.
"In this competition, our emphasis was all about getting in the finals and scoring," throws coach Greg Watson said about Kassanavoid's performance. "Janee' came in ranked first in the conference by a pretty substantial margin, so getting the win was the goal. I know she wanted the result to be better, but the bottom line is she got the job done and won."