Global Elite Sports Association and RezBall Affiliate Announce Final Selections for Native American Top 50 High School Basketball Ranking Camp and All-American Game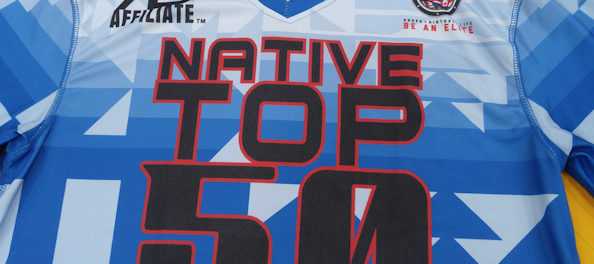 (Albuquerque, NM) – Global Elite Sports and RezBall Affiliate announced the final selections for the Native American Top 50 combine and camp this week. The event was formed to discover and develop Native America's best high school basketball players to be prepared to compete at the next level.
The Top 50 Combine and Camp, presented and powered by Adidas and D1 Nation, will be held June 29 – July 2 at Haskell Indian Nations University in Lawrence, Kansas with the Native Top 50 All-American Game to close out the camp.
"It was a tough all day selection process to choose all of these talented Native American athletes." said Global Elite Sports founder Derrick Stevens. "But after processing all of the applications with our team, we feel we have the best available talent out there in Indian Country that will show up and benefit from some of the best coaches and trainers in the business that will help further these athletes basketball skills and athletic careers."
Players selected had to be nominated by their respective high school coach, AAU coach or school's athletic director.
At the end of the event, the Top 50 players will have their individual ranking and it will be up to them to climb the rankings or fall. Out of these ranking, top players could be selected to travel to other camps and events, both nationally and internationally as an all-native squad.
Top 25 Girl's Selections in Alphabetical Order:
|  Name |  Tribe | | |
| --- | --- | --- | --- |
|  Neely Abrams |  Seneca | | |
|  Amryn Brown |  Arapaho/Shoshone | | |
|  Tariq BrownOtter |  Standing Rock Sioux | | |
|  Telisa Colay |  White Mountain Apache | | |
|  Naaniya Eddie |  Navajo | | |
|  Hilda Garcia |  Navajo | | |
|  Lois Garlow |  Seneca | | |
|  Anna Gorman |  Navajo | | |
|  Tiana Guillory |  Navajo | | |
| Raychael Harjo |  Seminole/Chickasaw | | |
|  Veronica Harjo |  Seminole/Chickasaw | | |
|  Dani Harley |  Standing Rock Sioux | | |
|  Mercedes Jefferson |  Choctaw | | |
|  Mackenzie Kinsel |  Navajo | | |
|  Lynnae Mitchell |  Navajo | | |
|  Stevie Peters |  Yankton Sioux | | |
| Alleen Russell |  Standing Rock Sioux | | |
|  Seniesha Sekaquaptewa |  Hopi | | |
|  Milan Schimmel |  Umatilla | | |
|  Lilith Schuman |  Ojibwa | | |
|  E'lease Stafford |  Navajo | | |
|  Mary Stewart |  Umatilla | | |
|  Jaelyn Two Hearts |  Spirit Lake Sioux | | |
|  Lindsey Waters |  Kiowa/Cherokee | | |
|  Aspen Williston |  Choctaw | | |
Top 25 Boy's Selections in Alphabetical Order:
|  Name | Tribe | | |
| --- | --- | --- | --- |
|  Mason Archambault |  Standing Rock Sioux | | |
|  Jarius Bear |  MesKwaki | | |
|  Justin Billy |  Navajo | | |
|  Yunish Billy |  Choctaw | | |
|  Ira Blackbear |  Cheyenne | | |
|  Elliot Bowen |  Seneca | | |
|  Robert Briley |  Choctaw | | |
|  Nathan Buck |  Yakama | | |
|  Robert Burries |  San Carlos Apache | | |
|  Man-Ape Cleveland |  Winnebago | | |
|  Justin Hemphill |  Seneca | | |
|  Josiah Jones |  Chickasaw | | |
|  Bansi King |  Oneida | | |
|  Trazil Lane |  Lummi | | |
|  D'von Lapointe |  Winnebago | | |
|  Xavier Littlehead |  N. Cheyenne | | |
|  Kenny Louie-Mcgee |  Coeur d'Alene | | |
|  Austin McClung |  Comanche | | |
|  Kobe McKnight |  Cree Nation | | |
|  Justice Morrison |  Rosebud Sioux | | |
|  Quentin Raynor |  Yakama | | |
|  Buell Robinson |  Shoshone | | |
|  Tyson Shambo |  Gros Ventre | | |
|  Deyondre Simpson |  MHA Nation | | |
|  Isaiah Smith |  White Moutain Apache | | |