Janee Kassanavoid (Comanche Tribe) Earns First Team All-America Honors at NCAA Track & Field Championships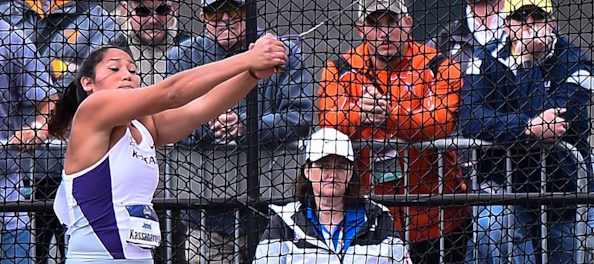 EUGENE, Ore. – Janee' Kassanavoid (Comanche) brought home First Team All-America honors in the Hammer Throw as the Kansas State women's track and field team closed out an action-packed Thursday at the NCAA Championships.
Through one day of competition at the national meet, the 10th-ranked Wildcat women are tied for 14th place with Baylor, USC and Memphis with six total points.
Kassanavoid put herself in a good position to make the finals on her first attempt in the series, using mark of 63.64m/208-09 to finish second overall in the first flight. Having to wait for her fate to be sealed by the competitors in flight two, the junior found herself sitting in eighth place after both flights to seal a spot in the hammer throw final for a second-straight season.
The native of Lawson, Missouri, jumped out early in the finals with a big mark of 66.58m/218-05 to leap from eighth place to second place. She did not improve on her mark over the last two attempts to finish the competition in fourth place to claim First Team All-America honors for the first time in her career.