Hayleigh Galvan (Cherokee Nation) Pinch Hit Leads Oklahoma State Cowgirl's to Victory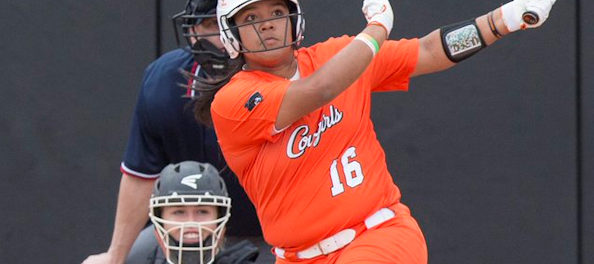 WACO, Texas —- Oklahoma State softball upset No. 13 Baylor, 9-4, Saturday at Getterman Stadium.  The victory was the second this season over a ranked opponent.  The Cowgirls' offensive outburst helped salvage the series after the Bears took the series with the doubleheader sweep yesterday.
With the win, OSU dropped Baylor to third in the Big 12 Standings while the Cowgirls held firm in the second position.
After Baylor tied the game at 4-4 with three runs in the bottom of the third, OSU responded with five runs in the fifth and sixth innings to take the 9-4 lead it wouldn't surrender.
"It was huge," head coach Kenny Gajewski said. "Just huge for our team. We got our butts kicked last night and there is only one thing you can do and that's answer. And we answered. I thought Brandi's performance was gutsy. We made some nice plays and had some big at bats. I'm just so proud of this team."
Oklahoma State's (33-19 overall, 12-3 Big 12) turning point in the game came in the top of the fifth courtesy of freshman Hayleigh Galvan (Cherokee Nation). With the game tied at 4-4, Galvan stepped to the plate as a pinch hitter and blasted a ball to the wall in left to score two and give the Cowgirls a 6-4 lead.
The Cowgirls continued their scoring ways the following inning with Kristin Reasnor and Randee O'Donnell RBIs to make it 9-4 OSU after six.
Baylor (39-10, 11-4) started the game with a 1-0 lead after one. OSU responded in the top of the second with O'Donnell, Maddi Holcomb, Rylee Bayless and Vanessa Shippy RBIs to take a 4-1 lead after the second.
The Bears scored three in the bottom of the third to tie the game at 4-4 but gave up five unanswered runs to drop the series finale on their senior day.
Galvan finished 1-for-1 with two RBIs, while Madi Sue Montgomery finished 3-for-3. Shippy went 2-for-3 with an RBI.
"I just felt so comfortable," Galvan said. "I felt like I was in batting practice. I just knew I had my team behind me and no matter the outcome they wouldn't be upset with me. No matter the outcome they'd still be my teammates."
Brandi Needham (18-6) earned the victory in the circle for the Cowgirls.
—–
Up Next: OSU returns to action with the Big 12 Regular Season Championship on the line when it takes on Oklahoma Wednesday at 6:30 on ESPNU