Haskell Indian Nations University's Volleyball Team to take on Bellevue University in Opening Round of NAIA National Championship Tournament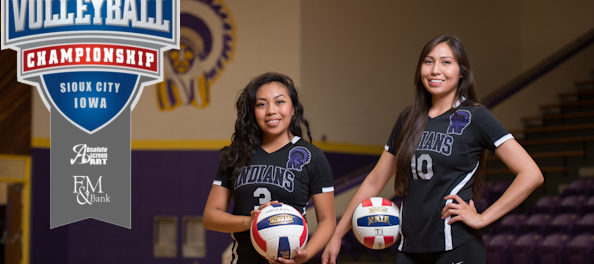 By Nikki Sherrill, Communications and Sports Information Intern
KANSAS CITY, Mo. – (Championship Schedule | Watch Selection Show) The National Association of Intercollegiate Athletics has officially announced the teams and Opening Round pairings for the 2016 NAIA Volleyball National Championship. The 44-team event will get underway with 12 National Championship Opening Round matches at campus locations on Nov. 19.
The Haskell Indian Nations University women's team made school history by finishing runner-up in the A.I.I. Conference tournament and was awarded the conference at-large bid and will be making their first appearance at the National Tournament in school history. The Lady Indians will play Bellevue University on November 19th in Bellevue, Nebraska. Winner of this match (3) will go on to compete in the 32 team national tournament.
The top 19 seeds and championship host Morningside (Iowa) automatically advance to the national championship final site in Sioux City, Iowa. Action inside the Tyson Events Center starts with three days of pool play from Nov. 29 – 1. The top two teams in each pool will advance to the elimination bracket on Dec. 2, and the national champion will be crowned Dec. 3 the with first-serve set for 7 p.m. CST on ESPN3.
This year's field includes 34 automatic qualifiers, 9 at-large selections and one host berth (Morningside). The automatic berths are determined by regular-season champions, conference tournament title winners or runner-ups. The remaining at-large bids were determined by the final regular season Tachikara-NAIA Volleyball Coaches' Top 25 Poll announced Monday. That Top 25 Poll can be viewed here. Final site pools will be determined on Sunday, Nov. 20, and released by 5 p.m. CST
The NAIA Network – the association's official video streaming home – will broadcast all 63 matches (including 48 pool-play matches) live at the 2016 NAIA Volleyball National Championship final site in Sioux City, Iowa. The video platform, powered by Stretch Internet, allows users access to live video, statistics, and social interaction on a number of devices, including mobile. Single day passes can be purchased for $9.95, while a pool play pass is $24.95 (Nov. 29 – Dec. 2) and an all-championship package is available at $39.95. For more information and the pre-register, click here.
Opening Round Schedule
Saturday, Nov. 19 | Campus Sites
Match 1 – Cornerstone (Mich.) at Union (Ky.)
Match 2 – La Sierra (Calif.) at Biola (Calif.)
Match 3 – Haskell (Kan.) at Bellevue (Neb.)
Match 4 – Mount Vernon Nazarene (Ohio) at Corban (Ore.)
Match 5 – IU South Bend (Ind.) at Montana Tech
Match 6 – Point Park (Pa.) at Madonna (Mich.)
Match 7 – Webber International (Fla.) at Mobile (Ala.)
Match 8 – IU Kokomo (Ind.) at Ottawa (Kan.)
Match 9 – St. Francis (Ill.) at Xavier (La.)
Match 10 – Ozarks (Mo.) at Our Lady of the Lake (Texas)
Match 11 – Tabor (Kan.) at Wayland Baptist (Texas)
Match 12 – St. Andrews (N.C.) at Coastal Georgia
For more information on the 2016 NAIA Volleyball National Championship Opening Round and final site, click here.