Hannah Tomeo (Colville Tribes) Finishes in Top 50 in First Collegiate Race for Portland State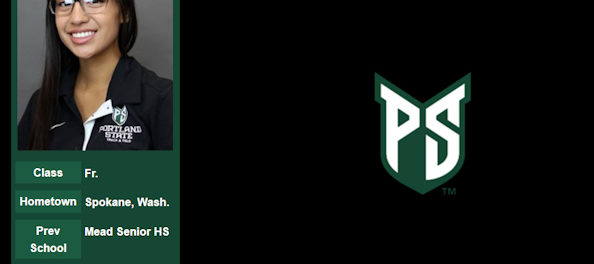 SEATTLE, Wash. —  Kaila Gibson led the Viking women while setting a 6,000-meter personal best with her finish in 22:05.88. Gibson's time beat the personal best she set at the same meet as a freshman in 2015, when she finished in 22:08.31.
Gibson set her personal best while finishing 30th overall, and freshmen Meggie Karp and Hannah Tomeo (Colville Tribes) followed Gibson as the Vikings' second and third runners, respectively, at 45th and 48th overall. Karp finished her first 6k race in 22:45.19, with Tomeo right behind at 22:49.30.
Senior Alana Chaplin, competing in her second cross country season after spending her first two year at Portland State as a member of the women's tennis team, placed as the Vikings' fourth runner at 62nd overall in 23:37.90. Chaplin had never placed higher than the Vikings' fifth runner before Saturday, and beat her time from last season's Sundodger Invite by close to 12 seconds.
Junior Jocelyn Reynolds also beat her time at last season's Sundodger by more than 11 seconds, as she finished 67th overall in 24:02.02.
Freshman Alana Baldwin-Joiner placed as the Vikings' sixth runner at 73rd overall in 24:44.11.
The Vikings will return to action two weeks from Saturday, when they compete at the Charles Bowles Willamette Invitational on Sept. 30. Willamette University will host the meet at Bush Park in Salem, Ore., with a men's 8k starting at 9:30 a.m., and a women's 5k starting at 10:20 a.m.
Sundodger Invitational
Lincoln Park
Seattle, Wash.
Sept. 16, 2017
Women's Team Scores:
1. Washington, 22 points; 2. Oregon State, 66 points; 3. Nevada, 72 points; 4. Creighton, 84 points; 5. Eastern Washington, 113 points; 6. Seattle, 182 points; 7. Santa Clara, 185 points; 8. Portland State, 195 points; 9. Hawaii, 272 points.
Portland State Runners (out of 78):
30. Kaila Gibson, 22:05.88; 45. Meggie Karp, 22:45.19; 48. Hannah Tomeo, 22:49.30; 62. Alana Chaplin, 23:37.90; 67. Jocelyn Reynolds, 24:02.02; 73. Alana Baldwin-Joiner, 24:44.11.