Georgia Swarm's Lyle Thompson (Onondaga Nation) is the 2017 National League Lacrosse (NLL) Scoring Champion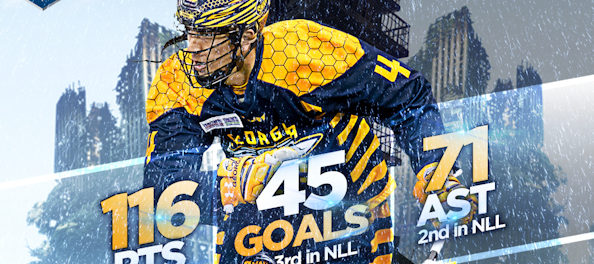 By Ty Merrow
Thompson led the NLL with a career-high 116 points in 2017
(Duluth, GA) – The Georgia Swarm (13-5) finished the 2017 NLL season with the best record in the league, achieving this feat with the most dominant offense since the Rochester Knighthawks who scored 258 goals in 2002. Georgia broke that record in the last game of the regular season, finishing with 266. Lyle Thompson (Onondaga Nation) scored the tally that surpassed Rochester's previous record, as fitting as any goal could be.
This was not the only team record Lyle took part in for the Swarm this season. Lyle also set new single-season Swarm points and assists records, finishing with 116 points and 71 assists. His 45 goals are good for second in franchise history and led the team this year.
In his rookie year, Lyle finished with 60 points (27G, 33A) in 18 games. He started the season off with only five points (3G, 2A) in the first three games before exploding against the Toronto Rock for 10 points (2G, 8A), marking his only game in double-digit points in 2016.
In his sophomore campaign, the youngest Thompson Brother more than doubled his assists while nearly doing the same in goals and points. He opened up the first three games with 22 points (8G, 14A) and continued his torrid pace. Lyle recorded 10 or more points four times throughout the season, including a career-high 11 points (4G, 7A) against the Colorado Mammoth on April 1.
Lyle set personal single-game records during his breakout season. Against Rochester on Feb. 19, Lyle got a socktrick (6G), good for 40% of the Swarm's goals that night. Against Colorado on April 1, Lyle again went off and recorded a career-high 11 points (4G, 7A), helping the team blow the No. 2 West Division team out of the water with a 21-13 victory.
On a tear for most of the season, Lyle averaged 2.5 goals per game and 3.9 assists per game. With 232 shots this season, Lyle's shot percentage sits comfortably at .194, which is the highest in the NLL amongst players with at least 200 shots.
"I planned to have a breakout year compared to last year," Lyle said. "I wasn't satisfied with the way I played. I wasn't satisfied with the way I started. So this year, I carried myself in a way that I wanted to make sure that I was playing to my level, and I think I'm playing to my level. I don't know if this is a breakout year or the way I want to play, but it's a breakout year compared to last year's if you're comparing the two years."
The 2017 regular season ended with eight players across the league finishing with 90 points or more, five of them over 100. Lyle's 116 points stands ahead of all of them. His 45 goals are good for third in the league, tied with New England's Kevin Crowley. Lyle's 71 assists are second only to Saskatchewan's Mark Matthews' 73.
Lyle also collected 126 loose balls throughout the season, the best out of the Top 24 scorers in the NLL. He also caused 15 turnovers. To find the next top scorer who caused more, one has to go all the way down the leaderboard to where Swarm captain Jordan MacIntosh sits with his 27 CTO. Lyle stepped in the faceoff circle 44 times this year and won 21 of them. One again has to go down to MacIntosh to find a scoring leader with more faceoff wins and opportunities (213-for-423).
Lyle saved some of his best goals for last. Tied up on the crease against two Rochester defenders on April 29, Lyle emulated his older brother Miles Thompson and his signature behind-the-back goals with one of his own. Rochester's goaltender Angus Goodleaf did not see the ball coming and moved to block it after the ball touched the net, a SportsCenter Top 10 Play.
Ever humble, Lyle refused to take sole credit for his stellar performance this year. He attributed almost all of his successes to the team chemistry and everyone contributing to the top offense in the NLL.
"I think a lot of the things just come with the team, though, the chemistry and the things that come together this year," Lyle said. "Just being a part of that, you know? I've had success, but a lot of people on the team this year have had success because of the team chemistry and how well we're playing. We've done a lot of things this year as a team, as an offense, as a defense. Looking at my end of the floor, the offensive floor, we've accomplished a lot of huge things for our organization, becoming number one in a lot of things.
"All that comes with team chemistry and that's where I give my credit to my success, is everyone else on the floor with me. This is a team game. I'm not out there doing it myself. I'm getting a lot of help from everyone else. I can say the confidence my teammates have given me has been the biggest contributor to my success this year. It's just everyone kind of helping each other, but looking at it from my point of view, my teammates have given me a lot of confidence this year to play the game I want to play, the style I want to play."
The Nike-endorsed athlete was not the only Thompson Brother on the team to have a career year. Miles set a new career-high in goals with 32 in 16 games, topping his 27 goals in 18 games during his rookie season. Jerome set new records in points and assists too, finishing with 37 points and 29 assists.
The three brothers welcomed their eldest sibling Jeremy and his Saskatchewan Rush teammates on Jan. 7. The four Thompson Brothers set a Guinness World Record for having four siblings compete at the same time in a professional lacrosse game. Lyle, Miles, and Jerome led the Swarm in an 18-10 victory over Jeremy and the Rush.