Gabby Barker (Shoshone/Paiute) and Texas Tech Lady Raiders Move Up Two Spots at NCAA Championships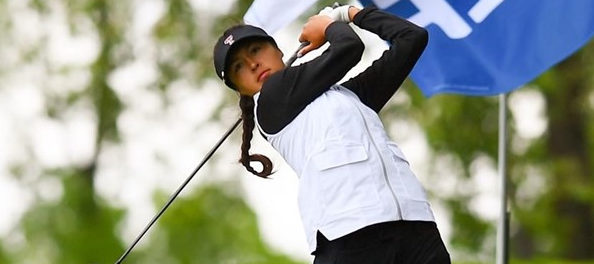 SUGAR GROVE, Ill. – Texas Tech moved up two spots at the NCAA Championships Sunday afternoon after firing a 25-over-par 313 second round at Rich Harvest Farms just outside of Chicago.
Facing cold and windy conditions once again, Tech overtook Oregon and playing partner Pepperdine for 22nd place on the team leaderboard as the Lady Raiders, who improved their score by 24 strokes from the opening round, are now 72-over for the tournament heading into Monday's third round.
Tech will need a near-perfect third round Monday to advance to the match play portion of the tournament as the 24-team field will be cut to just eight schools after 54 holes in the updated weather-shortened format. The Lady Raiders currently trail eighth-place Miami by 29 strokes.
Lauren Mason posted Tech's lowest round of the day with a 5-over-par 77 card that pushed her to 17-over for the tournament and into a tie for 85th overall. She was one stroke better than both Gabby Barker (Shoshone/Paiute) and Sofia Garcia after recording five bogeys to go along with five pars on the round.
Barker, who is now 20-over for the tournament, ended her day on a good note as she chipped close to the pin at the par-5 18th en route to an easy tap-in birdie. It was one of two birdies on the day for Barker as she used a similar close approach at the par-5 second.
Cara Barker added a birdie of her own at the 18th to close her round at 8-over. She is now 21-over for the tournament while Garcia is 14-over in a tie for 59th overall. Tech's final score came from Mami Yamamoto, who was 13-over with a pair of birdies on back-to-back holes during the front nine.
Tech was one of 11 schools to shoot over 20-over during the second round as the lowest card on the day came at 10-over from tournament leader Northwestern as well as No. 1 ranked Stanford. Northwestern leads the field at 23-over for the tournament, eight strokes better than second-place Kent State.
Stanford is in third place at 33-over followed by Ohio State at 34-over, Baylor at 35-over, South Carolina at 37-over and USC at 42-over. Miami currently controls the final spot to advance at 43-over but the Hurricanes will face a stiff challenge Monday as six teams are within six strokes of eighth place.