Gabby Barker (Shoshone-Paiute) recorded her second top-10 finish of the season Tuesday at the Puerto Rico Classic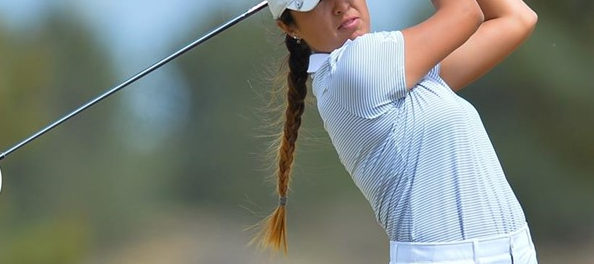 LUBBOCK, Texas – Backed by a 1-under-par round from Sofia Garcia, the Texas Tech women's golf team finished the Lady Puerto Rico Classic in seventh place Tuesday morning at the Rio Mar Country Club.
The Lady Raiders, who entered the final round in a tie for eighth place, topped a pair of top-25 teams in No. 10 Arkansas and No. 13 Purdue as well as a higher-ranked opponent in No. 40 Michigan after a 12-over 300 final 18 holes.
Tech concluded the tournament with a 29-over 893 card, which was two strokes better than Arkansas and 11 strokes ahead of Purdue. The Lady Raiders previously topped the Boilermakers over 18 holes of stroke play a week ago in Florida.
"We didn't get off to the quick start that we wanted today," Tech head coach JoJo Robertson said. "I'm pleased for Gabby (Barker) for hanging in there and only finishing two out of the lead on a day that wasn't her best. Sofia fought back and played well today. We will get back to work and look forward to another opportunity in Houston."
Garcia led the Lady Raiders over the final 18 holes, recording a birdie in three of her first five holes before finishing with a 71 card. The solid final round pushed the freshman into a tie for 30th overall at 9-over for the tournament.
Gabby Barker (Shoshone-Paiute), meanwhile, was Tech's highest finisher as her 3-over final round placed her 1-over for the tournament and in a tie for seventh individually. It was the second top-10 finish of the season for Barker, who has finished among the top 25 players in all six tournaments this season.
Barker finished just two strokes off from medalist honors which was shared by five players – Maria Vesga (Baylor), Naomi Ko (N.C. State), Haylee Harford (Furman), Amy Lee (Baylor) and Panitta Yusabai (Maryland).
Lauren Mason and Mami Yamamoto chipped in Tech's final two contributing scores with 3-over and 7-over rounds, respectively. Emma Ballard added an 8-over card to complete Tech's lineup. Mason ended the tournament in a tie for 43rd place while Ballard finished in a tie for 51st and Yamamoto was in a tie for 62nd overall.
N.C. State used a 3-under final round to rally for the team title as the Wolfpack edged both Furman and Kent State which were tied for second overall. TCU and Georgia rounded out the top five while Baylor placed sixth overall, just six strokes better than the Lady Raiders.
Tech will take just under two weeks off before returning to the links Feb. 27-28 at the University of Houston Invitational. The two-day tournament will be held at The Woodlands Country Club.