Briana Clah (Navajo) Named Rocky Mountain Athletic Conference Offensive Player of the Week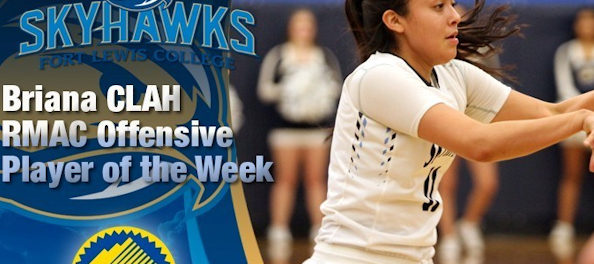 by Sarah Meier, Assistant Athletic Director
COLORADO SPRINGS – February 13, 2017 – Briana Clah (Navajo) has earned the Rocky Mountain Athletic Conference Offensive player of the Week award, announced today by the conference office.  This is the second RMAC Player of the Week award for the Fort Lewis College women's basketball program this season.  Alyssa Yocky was named the RMAC Defensive Player of the Week on Jan. 2.
Clah led the Skyhawks to two home wins against Western State Colorado University (W, 67-36) and Colorado Mesa University (W, 77-50) this past weekend. She averaged 20.5 points, 6.5 rebounds, 3.0 assists and shot 63.2 percent from the floor (12-of-19), 87.5 percent from three-point range (7-of-8) and 76.9 percent from the free throw line (10-of-13).
Against WSCU she scored 19 points after making all three three-point field goal attempts.  She tallied 22 points, four assists and eight rebounds against CMU (4-of-5 three-point field goals).
2016-17 Skyhawks RMAC Women's Basketball Players of the Week
January 2, 2017 – Alyssa Yocky (Defense)
February 13, 2017 – Briana Clah (Offense)