Gabby Barker (Shoshone-Paiute) in a tie for 15th individually after second round at the NCAA Lubbock Regional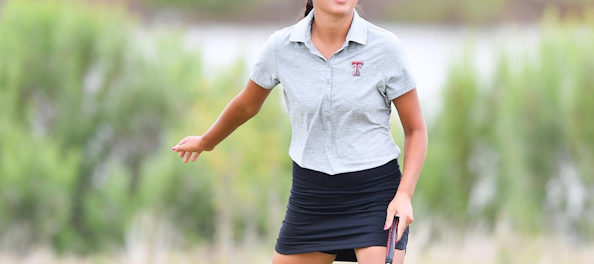 LUBBOCK, Texas – Texas Tech had all five players finish 1-over or better Tuesday afternoon as the Lady Raiders climbed to second place following the NCAA Lubbock Regional second round held at The Rawls Course.
The Lady Raiders will be in the final group Wednesday when Tech looks to advance past the regional round for the third time in program history and the second time in the past three seasons. Tech will need to finish among the top-six teams in order to move on to next week's NCAA Championships.
"We feel good to be in second place, but we know we need one more good round," Tech head coach JoJo Robertson said. "We need all five to come out and play like they did today, and I think that will put us in a good position. It's the same golf course that we play all the time. They came out here and were relaxed today and played great, so it's not like anything different tomorrow."
Backed by its balanced approach, Tech carded a 2-under 286 second round, the third-lowest score on the day among the 18-team field. Tournament leader Arizona State pushed its lead to double-digits following an 11-under round that gives the Sun Devils a 12-stroke advantage over the Lady Raiders, who were the only team to have ever player shoot 1-over or better Tuesday.
The Lady Raiders will begin Wednesday's final round at 6-over for the tournament, which is one stroke better than both Oregon and Furman in third place and six swings in front of fifth-place Texas. Kent State and top seed UCLA are currently tied for the sixth and final spot to advance at 16-over while San Diego State is sitting two strokes back in eighth.
Tech positioned itself for a solid round early with nine birdies over the front nine and then solidified its spot with all five players combining to shoot even over the challenging back nine. The Lady Raiders once again closed the round with several birdies, four of which that came on the final two holes.
Gabby Barker (Shoshone-Paiute) and Cara Barker, meanwhile, both added 1-over scores to round out Tech's lineup. The round moved Cara Barker into a tie for 28th overall at 5-over as Tech's entire lineup is all ranked among the top-36 individuals in the 96-player field.
Gabby Barker, who is now in a tie for 15th individually at 2-over, drained a pair of birdies on the back nine, beginning with the difficult par-3 10th that gave the Lady Raiders trouble during the opening round. Tech finished with four pars and Barker's birdie at the 10th, which has ranked as the course's third-toughest hole so far in the tournament.
The Lady Raiders will be paired with Arizona State and Oregon for the second-straight day Wednesday morning when the final round tees off at 9:50 a.m. from the No. 1 box. Final round coverage will be provided on Golfstat.com