Eagles Rookie QB Dane Evans (Wichita Tribe) Will Begin His NFL Career at Lambeau Field on Thursdsay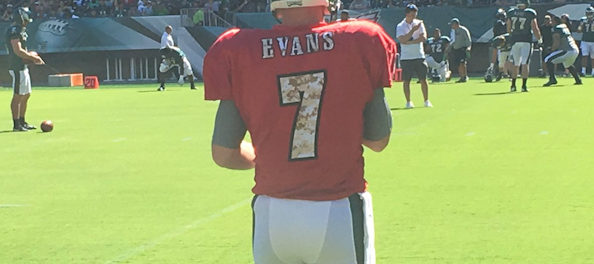 By Dave Zangaro | CSNPhilly.com
As the first half turns into the second Thursday night in Green Bay, undrafted quarterback Dane Evans (Wichita And Affiliated Tribes) from Tulsa will start getting ready to enter his first NFL game.
In the same stadium where one of his idols made a career.
When most think about Lambeau Field, it's impossible to not start thinking about Vince Lombardi and all the history that comes along with it. Evans, 23, thinks back to his childhood.
"I'm really excited about it," he said. "Obviously, getting to play at all. And then you add the fact that we're playing Green Bay in Lambeau, growing up a (Brett) Favre fan, it's really cool. I'm just excited about it. Talking to all the coaches and guys that have been around, they say it's one of the best places to play. So no better way to start off a career."
While Evans grew up in Texas and went to Sanger High School, not too far from Dallas, he just gravitated toward Favre.
"Just watching him and how he played, it's hard to watch him and not root for him," he said. "He plays like a little kid out there all the time. His love for the game, just watching it, would get you excited. Just to play and throw the ball around where he built a career and did it for so long is really cool."
Evans said he's spent some time visualizing the first time he runs onto an NFL field and the first time he enters the game, he's trying to not think about it too much. He just wants to enjoy it as much as he can.
For Evans and plenty of his Eagles teammates, Thursday night will offer their first taste of the NFL. And they'll get to play their first games in the league's most revered stadium.
Read more: http://www.nbcphiladelphia.com/news/sports/csn/eagles/Legendary_Lambeau_Field_offers_Eagles__rookies_special_1st_taste_of_NFL-439635703.html#ixzz4pMuzIIas