Davion Jeffries (Mvskoke Creek) earned a 2-1 decision for the Sooners who claim a 19-13 victory over Appalachian State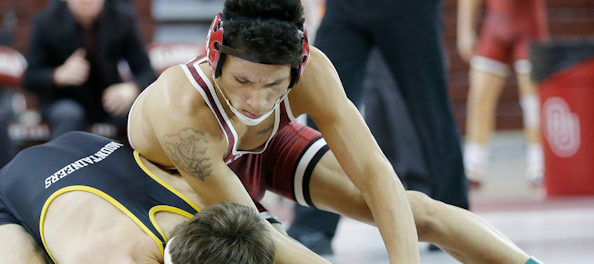 By Andie Beene, OU Communications Assistant
NORMAN – In its first home dual of the season, the No. 20 Oklahoma wrestling team claimed a 19-13 victory over Appalachian State inside McCasland Field House on Sunday afternoon.
The Sooners claimed six bout wins in the dual, including one bonus-point victory, to earn the win and move to 2-2 on the season.
"I think that we won some close matches, and I think Appalachian State came prepared and fought really hard, and some of our guys were not really ready for that," head coach Lou Rosselli said. "Maybe some times they think it is going to be easy, but I have tried to explain to them many times that every time you compete it is hard.
"I think that the last three matches, those guys had a tough situation," Rosselli continued. "Losing the 174-pound match, I think the momentum swung right after that. Then we have a couple of freshmen at 184 and heavyweight, and that made it tough on us. But, that is just the way that it is. That is college wrestling. When you are not a team that has five or six superstars that win everything, then we are in battles. We have to battle all the time."
The match started at 149 pounds, where junior Davion Jeffries earned a 2-1 decision over Gavin Londoff. Jeffries earned both an escape and the riding time point to give the Sooners an early 3-0 lead.
The dual marked the Sooners' final event of the calendar year. OU returns to the mat on Jan. 4 in its Big 12 opener against West Virginia in Morgantown, W. Va.