Courtney Lewis (Mojave/Hopi) Finishes in First Place at the ASU Cross Country Invitational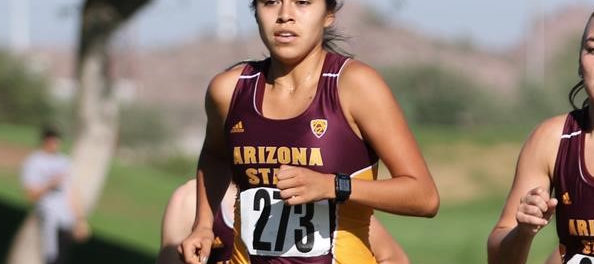 TEMPE – The Sun Devil women closed out the regular season with a home victory behind a one-two finish from Courtney Lewis (Mojave Tribe/Hopi) and Billie Jo Dytrt at the ASU Cross Country Invitational Friday in Tempe.
"Courtney did an excellent job today," head coach Jeremy Rasmussen said. "For her, putting herself in a position to get to the front of the race right away and kind of hold control of it the whole time was fun to see. She definitely deserves the win because she's gone through a lot this fall."
The women's three-mile race followed the men's four-mile run that was won by former Sun Devil C.J. Albertson, running unattached.
ASU's women's squad finished with a season-low 24 points thanks in part to the strong performances from Lewis and Dytrt. However, the entire Sun Devil top-five finished in the top-10 of the race with true freshman Angela Saitta coming in fifth, Bianca Tinoco placing seventh in her season debut, and Anastasia Hancock taking ninth in her first race since Sept. 15.
"Coach said to run around a six-minute pace just to pace the girls and that's what I did," Lewis said. "It got a little tough in the grassy part with the rolling hills and soft grass, but I still maintained a good pace overall."
Lewis and Dytrt broke away early and traded the lead several times throughout the course of the second and third loops at the Karsten Golf Course. Lewis, a sophomore, pulled away from Dytrt late as the women neared the chute to come away with her first win as a Sun Devil in 18:19.
"Every time we go out, Billie's taken a step forward," Rasmussen said. "Hopefully she can continue to build that confidence as we head into next Friday because it's super important. She was really close to Courtney at the end and she just hasn't been that close to her over the course of the season, so that's really great to see."
The win also marked the Sun Devil women's second win over Arizona this season, with the first coming at the opener in Flagstaff.