Cierra Moss (Makah) Scored 14 Points for Evergreen State who Fall to Eastern Oregon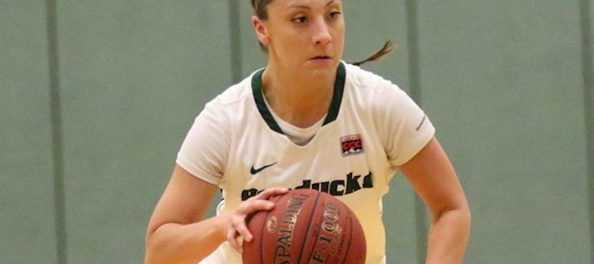 Eastern Oregon got off to a fast start, building a big early lead and keeping The Evergreen State College at arm's length the rest of the way in taking a 94-68 Cascade Collegiate Conference women's basketball win on Friday night inside Costantino Recreation Center.
Cayla Jones (Yakima Tribe) led the Geoducks (5-6 overall, 3-4 CCC) with 16 points, followed by Cierra Moss (Makah Tribe) with 14, Alexcis Higginbotham with 13 and Jahpera McEachin with 10.
There were two ties and four lead changes in the opening minutes, but the Mountaineers took the lead for good at 9-7 on a Stormee Van Belle layin with just 2:17 into the game. Eastern Oregon went on to shoot 83 percent (15-for-18) in the first quarter alone in building a 33-21 lead before adding 30 points in the second period, including 6-for-8 shooting from beyond the three-point arc. The visitors held a 63-40 lead at the half and took their largest lead at 30 points in the fourth quarter.
Evergreen shot better than 50 percent in the opening half but simply couldn't stay with Eastern Oregon.
EOU's Maya Ah You-Dias and Payton Parrish both surpassed the 1,000-point total for their careers for the Mountaineers. Ah You-Dias reached the 1,000-point mark with a three-pointer in the second quarter on the way to a game-high 23 points for the visitors. Parrish also hit a three to break the 1,000 barrier and she finished the game with nine points.
Van Belle tallied 20 points and nine rebounds and Mariah Swanson added 15 points, nine rebounds and a game-high eight assists for No. 8-ranked Eastern Oregon (15-2 overall, 8-0 CCC), which beat Evergreen for the 20th consecutive time. Maren Herrud was the team's other double-figure scorer with 15 points.
The Mountaineers shot 60 percent overall (39-for-65) and 52 percent (11-for-21) from beyond the three-point line, but they were only 5-for-9 at the foul line after coming into the game shooting a nation-best 85.6 percent.
Both teams return to action on Saturday night, the Geoducks hosting College of Idaho and the Mountaineers facing Northwest University in Kirkland.